Spell Token (SPELL) Price Prediction – 2023, 2025, 2030
Spell Token (SPELL) Overview
🪙 Cryptocurrency
Spell Token
💱 Ticker Symbol
SPELL
🏆 Rank

1308

💸 Market Cap
$

63,010,479

💲 Price
$

0.000587

🚀 Trading Volume
$

9,019,798

📈 Price Change (24h)

1.08%

💰 Current Supply

107,405,628,969
Bullish Spell Token (SPELL) price predictions range between $

0.00264

and $

0.004987

by 2030.
Market analysts believe SPELL could reach $

0.002053

by 2025.
Bearish Spell Token market price prediction for 2023 is $

0.000469

.
Spell Token (SPELL) Introduction
Spell Token (SPELL) is the native governance and staking token of cross-blockchain lending platform Abracadabra Money. Basically, the DeFi lending project lets users put up collateral in exchange for its stablecoin, $MIM (Magic Internet Money). Once MIM is in your wallet, you can exchange it for other stablecoins or cryptocurrencies where MIM is accepted. While this concept is not new in the DeFi (Decentralized Finance) space, Abracadabra differs from platforms like Aave because it accepts interest-bearing tokens such as $MEMO, $xSUSHI and various Curve/Convex tokens as collateral. Abracadabra also offers yield farming opportunities, where users can stake their liquidity provider (LP) tokens to farm Spell tokens.
The project was founded by Daniele Sesta, who is also responsible for Popsicle Finance (decentralized market maker) and Wonderland (OlympusDAO fork), both on the Avalanche chain. Alongside him are 0xMerlin and Squirrel, co-founders of Abracadabra, who manage the platform and collectively identify themselves as members of the "frog nation" community. Despite the quirky name, Abracadabra's success speaks for itself. Last year, it generated an average of $2.2 million per week in fees and around $5 Billion in TVL. In addition, the company recorded $120 million in yearly revenue.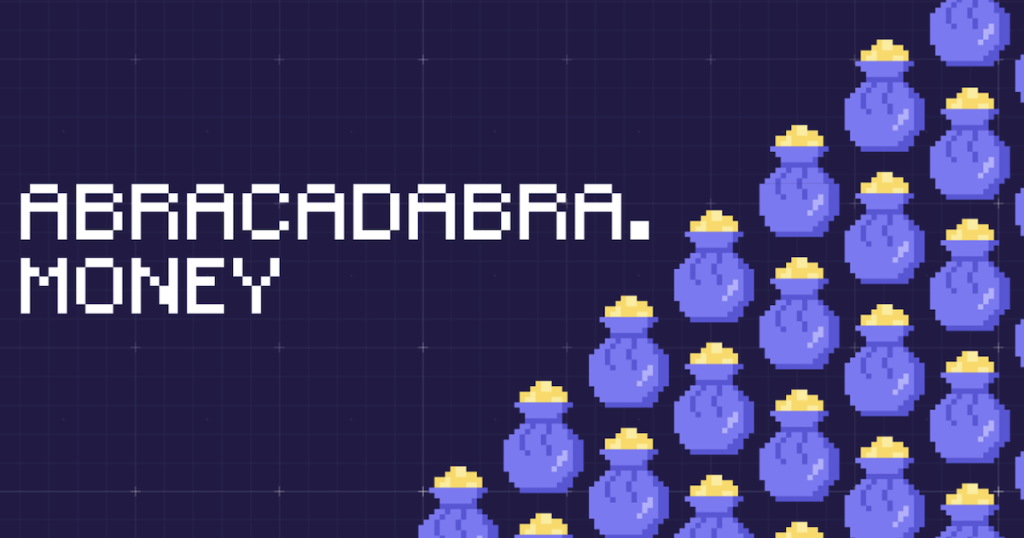 The focus of this article is to provide you with a comprehensive price prediction of Spell Token (SPELL) from 2022 to 2030. To do that, we will first cover the components of Abracadabra Money and how each element comes together to provide value to its users. Then, we will also look into the historical price action as well as the role of Spell Token in the ecosystem.
Exploring Abracadabra Money
Abracadabra.money is a decentralized crypto lending platform that allows users to collateralize digital assets in exchange for stablecoin loans. However, Abracadabra is unique in that it utilizes interest bearing tokens (ibTKNs) — a type of liquidity provider (LP) token — as collateral. These ibTKNs are becoming increasingly common throughout the decentralized finance (DeFi) space. They generate continuous returns, increasing in value the longer one holds them. This innovation helps set Abracadabra and its subsidiary technologies like Spell token and magic internet money ($MIM) apart from the existing DeFi lending platforms available.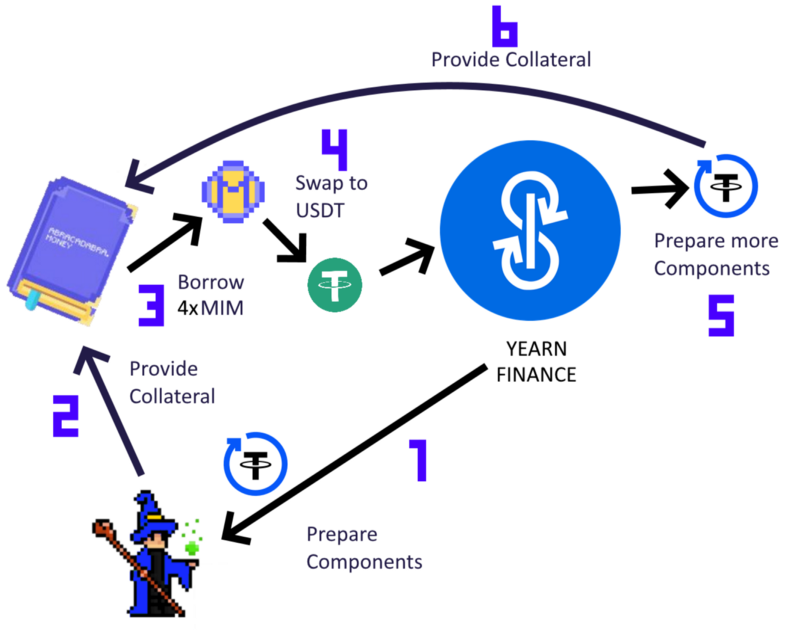 Stablecoin loans, enable investors to amplify yields while retaining ownership of their digital assets. For example, investors can sell or reinvest their loan proceeds, promoting more complex trading strategies. In general, DeFi protocols like Curve, Yearn, and SushiSwap mint ibTKNs as part of the loan structure. Abracadabra Money aims to further decentralize DeFi investment opportunities by introducing these ibTKNs as collateral in stablecoin loans.
The Abracadabra ecosystem represents the newest class of decentralized finance platforms: DeFi 2.0. DeFi 1.0 era depended on renting liquidity like rewarding yield farmers in exchange for liquidity while DeFi 2.0 emphasizes protocol-owned liquidity or POL. Basically, if you take out a loan in the platform, your collateral bears interest making it a self-repaying loan!
Abracadabra Money Tokenomics
At the center of the Abracadabra Money is the MIM token, a USD pegged stable coin that is backed by ibTKNs. MIM tokens are minted by the multisig holders on Ethereum, and only after being collateralized are they injected into circulation. In the future, they may be bridged to other blockchains. You can use MIM to buy other, more globally accepted stablecoins such as DAI and USDC, or you can buy Bitcoin with MIM directly on Bitfinex via the BTC/MIM pair.
Algorithmic stablecoins such as MIM are issued and burned from the circulating supply to keep their value pegged to the $1 mark. When a user deposits collateral to Abracadabra and takes out a MIM token loan, the platform mints fresh MIM into the supply, backed by the user's ibTKNs in the Collateral Debt Position. When you repay the MIM, the protocol burns MIM from the supply, reducing its overall circulation in the market. Those mechanics expand and contract the MIM supply, keeping it nailed to the stable $1 peg.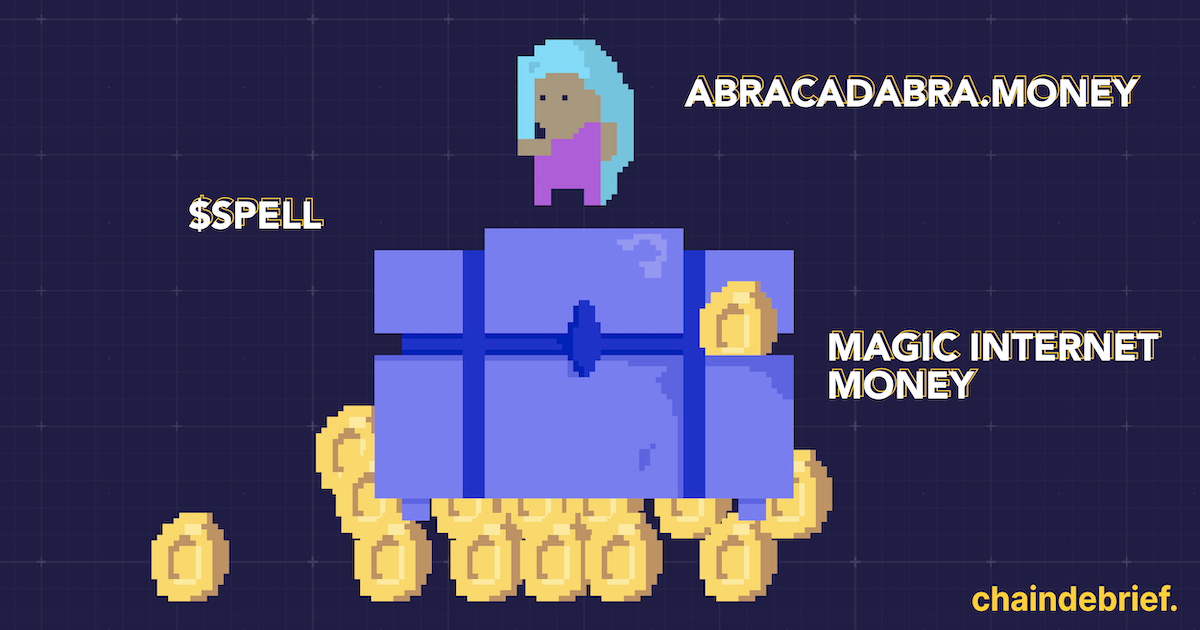 Although the MIM stablecoin is the primary token within the Abracadabra ecosystem, the Spell token and its close relative the sSPELL token each facilitate network governance and incentivize market participation. The Spell token facilitates governance on the Abracadabra crypto platform and has a total supply of 210 billion, distributed as follows:
Global farming incentives (63%): These tokens are used to incentivize particular LP pairs and mining programs. This targeted distribution helps ensure adequate liquidity across markets on the platform.
Team allocation (30%): These tokens have been retained for founding team members.
IDO (7%): The initial supply of Spell tokens was distributed to early project supporters via an Initial DEX Offering (IDO).
Spell Token will follow a ten-year halving model, which will cut in half the rewards distributed every year. 50% of team tokens are to be issued in the first year, 25% in the second, and 12.5% in the third and fourth years. Each week, 624 million SPELL are emitted. SPELL is also used as a governance token, with users having voting power according to how much they have staked.
Additionally, the similarly named sSPELL token facilitates fee-sharing and governance on platform. Users can stakeSPELL tokens to mint sSPELL, enabling fee-sharing in the SPELL staking pool and participation in the Abracadabra DAO. sSPELL crypto holders automatically earn fees proportional to their share of the SPELL staking pool. In addition, because those holding sSPELL or the SPELL/ETH Sushiswap LP token can participate in governance, staking SPELL doesn't have to mean forfeiting governance rights.
It's important to note that all sSPELL is subject to a 24-hour lock-up period, implemented to stabilize the staking pool. You'll collect a portion of interest, borrowing, and liquidation fees collected by Abracadabra in proportion to the amount of sSPELL you own. As your sSPELL collects fees, the platform automatically restakes those fees to compound your rewards continuously.
How Does Abracadabra Money Work?
Here's a compressed guide on how Abracadabra Money works:
Step 1 — Collaterals are deposited on Abracadabra.
Step 2 — A debt allocation, with interest, is assigned to the borrower.
Step 3 — MIM tokens are deposited into the borrower's wallet.
Step 4 — Users take their MIM wherever they like.
Basically, users need to deposit interest-bearing tokens to receive MIM and exchange it for other stablecoins or cryptocurrencies. When users are ready to get their collateral back, they need to return the original MIM amount plus interest to unlock their tokens. If their collateral's value drops below the loan-to-value ratio, the protocol takes possession of the collateral, an event called liquidation. On the plus side, they get to keep the MIM they borrowed.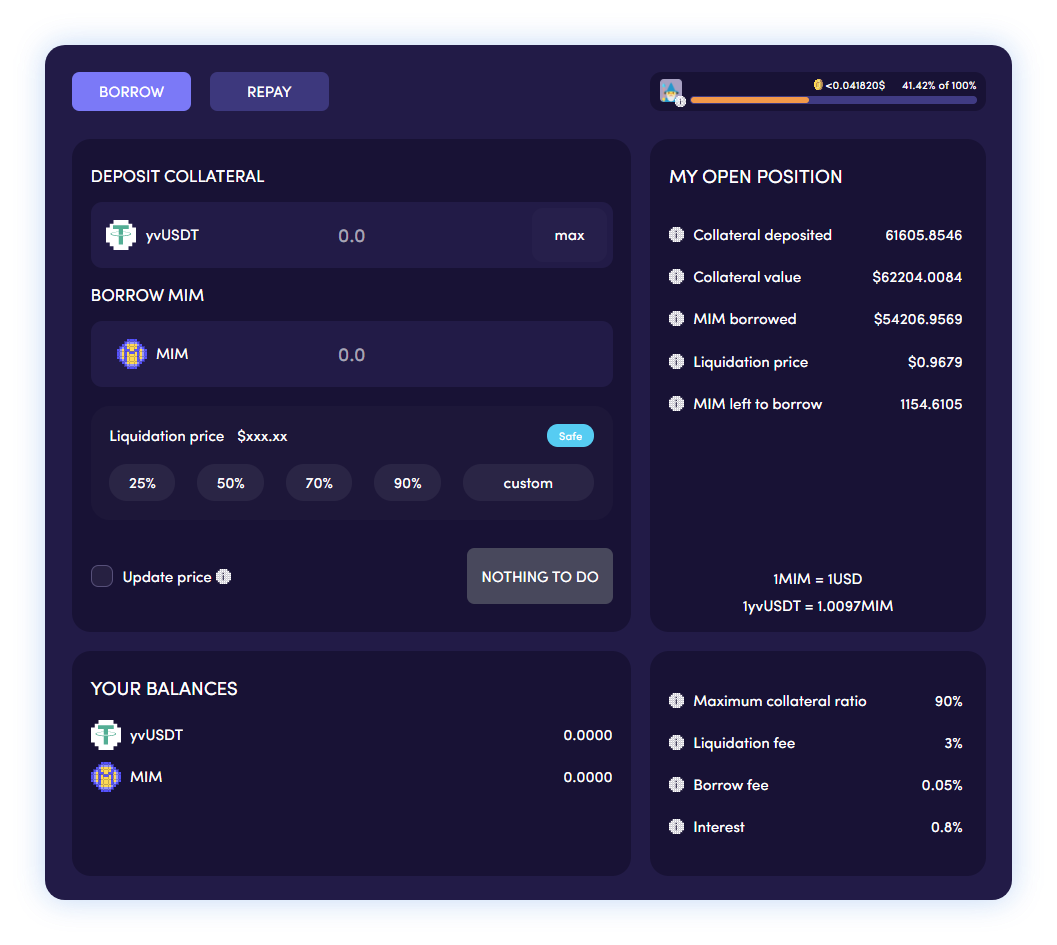 The design of Abracadabra Money shows that the team recognizes that users with funds tied up in yield-farming pools wanted to borrow against those positions. Since interest-bearing tokens increase in value over time, the amount one can borrow keeps rising. Moreover, people holding interest-bearing tokens don't want to give up their yields while their tokens are locked as collateral.
To illustrate, user A owns 100,000 USDT and he is a fan of Yearn. He has decided to deposit them into the USDT V2 yVault to earn handsome returns. He now owns yvUSDT tokens which have a current value of $100,000 and are increasing in value. Let's say user A gets bored and wants to use this money to buy himself a new car.
User can deposit the $100,000 worth of yvUSDT into Abracadabra, he can then choose how much risk he wants to take on. Let's say, he mints 90% of his collateral. After clicking "borrow" he will receive 90,000 MIM. He will be paying an interest rate of 0.8% because of his collateral choice. He can then swap his MIM for USDT, USDC or DAI. Assuming he chose USDT, he can swap MIM for USDT in the Curve MIM-3Pool Metapool and receive 90,000 USDT.
Now, he has the money to pay for his new car and even pimp his ride. Remember his yvUSDT is increasing in value while he is enjoying the proceeds of his DeFi loan. That's the game-changing value proposition of the Abracadabra ecosystem!
Spell Token (SPELL) Coin Overview
Spell Token is the platform's native currency based on the Ethereum blockchain. Though much higher in quantity than MIM, these coins are actually found less commonly in circulation. This is because they are largely used as a form of governance token on Abracadabra's own platform. Governance tokens give holders the option to either vote themselves or delegate their votes, regarding changes on the issuing platform's upgrades. This essentially means they become a form of stakeholder, and just as with normal stake holding; the more capital they pledge, the greater their say in proposed changes to that platform's format.
Spell tokens also allow their holders an option to earn passive income, by staking the actual tokens themselves as well. SPELL contributors are given MIM in exchange for their contributed tokens, which can also be used themselves (at risk of losing their SPELL). SPELL contributors also earn periodically from trading fees made on Abracadabra's platform when they stake SPELL. As mentioned in the tokenomics, these earnings are distributed via sSPELL.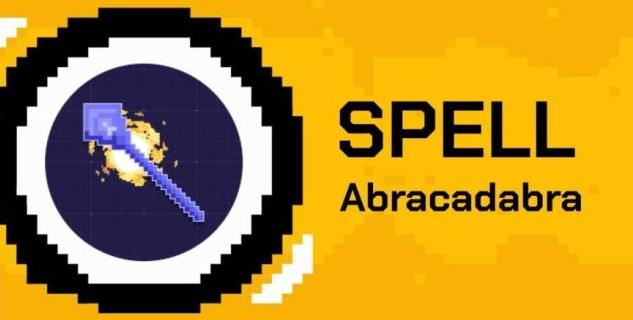 If you rent liquidity from providers in exchange for SPELL bribes long enough, there will likely come a day when those providers find better rewards elsewhere. When that day arrives, Abracadabra's total value locked will dwindle. To solve this, Abracadabra money teamed up with Olympus DAO to take control of its liquidity. Protocol-owned liquidity, or POL means the deep liquidity it rents is under its permanent discretion. POL allows protocols like Abracadabra to focus on delivering better products without having to worry about its liquidity seeping away.
Spell Token (SPELL) Current Price
Spell Token is currently worth $0.000587 USD. SPELL has moved 1.08% in the last 24 hours with a trading volume of $9,019,798. Spell Token is currently ranked 1308 amongst all cryptocurrencies with a market capitalization of $63,010,479 USD.
Utilizing the relative strength index (RSI), moving weighted average (MWA), williams fractal (fractal) and moving average convergence divergence (MACD) from the chart above, we can determine price patterns for Spell Token (SPELL) to decide wether it is going to have a bullish or bearish year.
Spell Token (SPELL) Price Predictions
Year
Minimum Price
Average Price
Maximum Price
2023
$

0.000704

$

0.000821

$

0.00088

2024
$

0.001173

$

0.001291

$

0.001467

2025
$

0.00176

$

0.001877

$

0.002053

2026
$

0.002347

$

0.002464

$

0.00264

2027
$

0.002933

$

0.003051

$

0.003227

2028
$

0.00352

$

0.003637

$

0.003813

2029
$

0.004107

$

0.004224

$

0.0044

2030
$

0.004693

$

0.004811

$

0.004987

2031
$

0.00528

$

0.005515

$

0.005749
Our price prediction forecasts use real-time Spell Token (SPELL) market data and all data is updated live on our website. This allows us to provide dynamic price predictions based on current market activity.
Spell Token (SPELL) Price Prediction 2023
Spell Token, according to some, is one of the most amazing cryptocurrencies to rise this year (SPELL). The SPELL price forecast for 2023 anticipates a significant increase in the year's second half, possibly reaching $0.00088.
As with other cryptocurrencies, the rise will be gradual, but no considerable drops are expected. Averaging $0.000821 in price is quite ambitious, but it is feasible in the near future given anticipated collaborations and advancements. SPELL is expected to have a minimum value of $0.000704.
Spell Token (SPELL) Price Prediction 2024
In 2024, Spell Token SPELL price prediction has much room for expansion. As a result of the potential announcements of numerous new partnerships and initiatives, we anticipate that the price of SPELL will soon surpass $0.001467. However, we should wait to see if the SPELL's relative strength index comes out of the oversold zone before placing any bullish bets.
Considering the market volatility, SPELL will trade with a minimum trading price of $0.001173 and an average trading price of $0.001291.
Spell Token (SPELL) Price Prediction 2025
If the upward trend continues until 2025, it could reach $0.002053 and SPELL may profit. If the market experiences a decline, the goal may not be met. SPELL is expected to trade at an average price of $0.001877 and a low of $0.00176 in 2025.
Spell Token (SPELL) Price Prediction 2026
If Spell Token successfully boosts market sentiment among cryptocurrency enthusiasts, the SPELL coin price could remain stable for the next five years.
According to our projections, SPELL will be green in 2026. The SPELL is expected to reach and surpass its all-time high in 2026. In 2026, the virtual currency will be worth $0.00264, with a minimum price of $0.002347 and an average price of $0.002464.
Spell Token (SPELL) Price Prediction 2027
After some extensive forecasting and technical analysis, we estimate the SPELL price is expected to cross an average price level of $0.003051 by 2027, with a minimum price of $0.002933 expected before the end of the year. Furthermore, SPELL has a maximum price value of $0.003227.
Spell Token (SPELL) Price Prediction 2028
Due to the future partnerships that are expected to happen by 2028, we are expecting that a bullish trend will continue, bringing the average price to around $0.003637. If SPELL manages to break the resistant level in 2028, we could see a maximum price of $0.003813, failing to gather the support SPELL needs by 2028 could result in a low of $0.00352.
Spell Token (SPELL) Price Prediction 2029
While SPELL is striving towards interoperability between networks to hasten interaction, the bullish trend from the previous year is expected to continue. So the minimum trade price has been placed at $0.004107 and a yearly price close above $0.0044 in 2029.
Spell Token (SPELL) Price Prediction 2030
By 2030, Spell Token will finally surpass its previous ATH values and record new price levels. The minimum price could be $0.004693 and potentially reach a maximum price value of $0.004987, averaging out at $0.004811.
Spell Token (SPELL) Price Prediction 2031
The cryptocurrency market is known to be highly volatile which is one of the many reasons why price forecasting is a difficult task. BitcoinWisdom tries our best to forecast future price points with precision, however all predictions should not be taken as financial advice and you should DYOR (do your own research). In 2031, we are expecting cryptocurrency to have gained adoption across many sectors. As such, the maximum SPELL price in 2031 is projected to be $0.005749 in the event of a bull run, with an average price level of $0.005515.
Premium Spell Token (SPELL) Price Predictions
Create your account below to receive exclusive access to a wide range of trading tools such as premium Spell Token price predictions, advanced SPELL buy/sell signals and much more.
Create Account
FAQ
What is the Spell Token (SPELL) price today?
Today, Spell Token (SPELL) is trading at $0.000587 with a total market capitalization of $63,010,479.
Is Spell Token a good investment?
Spell Token proved to be one of the most talked about coins in the crypto space this past year. With this in mind, it is wise to say that SPELL is a good choice of investment.
How high can Spell Token go?
The average price of Spell Token (SPELL) can possibly reach $0.000821 this year. Over the next 5 years, it is projected that Spell Token may surpass $0.003813.
How much will Spell Token be worth in 5 years?
Based on the rising popularity of cryptocurrency and Spell Token, a long term investment in SPELL could see the price rise to $0.003813 within the next 5 years.
How much will Spell Token be worth in 10 years?
If you invest in Spell Token today, as with any investment, a long term increase is expected. The price of SPELL could possibly rise to $0.007451 within the next 10 years.
What will the Spell Token price be in 2024?
Spell Token (SPELL) price is expected to reach $0.001467 by 2024.
What will the Spell Token price be in 2025?
Spell Token (SPELL) price is expected to reach $0.002053 by 2025.
What will the Spell Token price be in 2026?
Spell Token (SPELL) price is expected to reach $0.00264 by 2026.
What will the Spell Token price be in 2027?
Spell Token (SPELL) price is expected to reach $0.003227 by 2027.
What will the Spell Token price be in 2028?
Spell Token (SPELL) price is expected to reach $0.003813 by 2028.
What will the Spell Token price be in 2029?
Spell Token (SPELL) price is expected to reach $0.0044 by 2029.
What will the Spell Token price be in 2030?
Spell Token (SPELL) price is expected to reach $0.004987 by 2030.
What will the Spell Token price be in 2031?
Spell Token (SPELL) price is expected to reach $0.005749 by 2031.
Latest Predictions