Spell Token (SPELL) Price Prediction – 2022, 2025, 2030
Despite an impressive performance in 2021, price prediction in 2022 is bearish. The average trading price of Spell Token is projected to drop to $0.002.
The token will be close to its ATH price by 2030 with a maximum price value of $0.047.
Spell Token (SPELL) is the native governance and staking token of cross-blockchain lending platform Abracadabra Money. Basically, the DeFi lending project lets users put up collateral in exchange for its stablecoin, $MIM (Magic Internet Money). Once MIM is in your wallet, you can exchange it for other stablecoins or cryptocurrencies where MIM is accepted. While this concept is not new in the DeFi (Decentralized Finance) space, Abracadabra differs from platforms like Aave because it accepts interest-bearing tokens such as $MEMO, $xSUSHI and various Curve/Convex tokens as collateral. Abracadabra also offers yield farming opportunities, where users can stake their liquidity provider (LP) tokens to farm Spell tokens.
The project was founded by Daniele Sesta, who is also responsible for Popsicle Finance (decentralized market maker) and Wonderland (OlympusDAO fork), both on the Avalanche chain. Alongside him are 0xMerlin and Squirrel, co-founders of Abracadabra, who manage the platform and collectively identify themselves as members of the "frog nation" community. Despite the quirky name, Abracadabra's success speaks for itself. Last year, it generated an average of $2.2 million per week in fees and around $5 Billion in TVL. In addition, the company recorded $120 million in yearly revenue.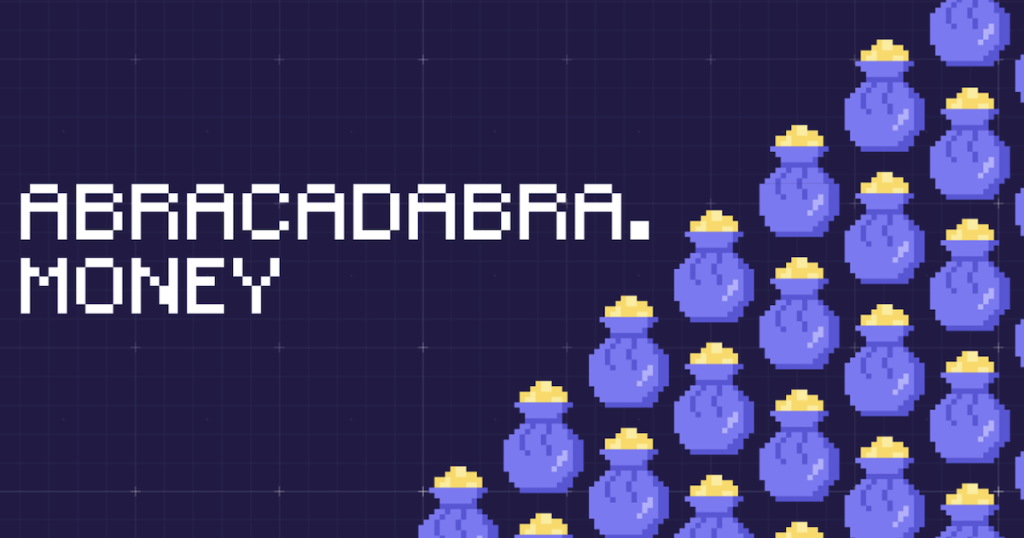 The focus of this article is to provide you with a comprehensive price prediction of Spell Token (SPELL) from 2022 to 2030. To do that, we will first cover the components of Abracadabra Money and how each element comes together to provide value to its users. Then, we will also look into the historical price action as well as the role of Spell Token in the ecosystem.
Exploring Abracadabra Money
Abracadabra.money is a decentralized crypto lending platform that allows users to collateralize digital assets in exchange for stablecoin loans. However, Abracadabra is unique in that it utilizes interest bearing tokens (ibTKNs) — a type of liquidity provider (LP) token — as collateral. These ibTKNs are becoming increasingly common throughout the decentralized finance (DeFi) space. They generate continuous returns, increasing in value the longer one holds them. This innovation helps set Abracadabra and its subsidiary technologies like Spell token and magic internet money ($MIM) apart from the existing DeFi lending platforms available.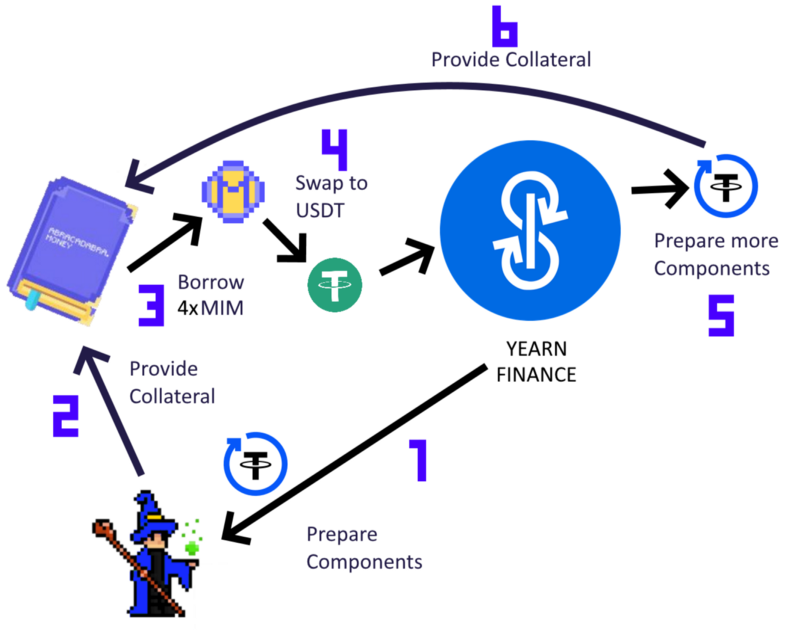 Stablecoin loans, enable investors to amplify yields while retaining ownership of their digital assets. For example, investors can sell or reinvest their loan proceeds, promoting more complex trading strategies. In general, DeFi protocols like Curve, Yearn, and SushiSwap mint ibTKNs as part of the loan structure. Abracadabra Money aims to further decentralize DeFi investment opportunities by introducing these ibTKNs as collateral in stablecoin loans.
The Abracadabra ecosystem represents the newest class of decentralized finance platforms: DeFi 2.0. DeFi 1.0 era depended on renting liquidity like rewarding yield farmers in exchange for liquidity while DeFi 2.0 emphasizes protocol-owned liquidity or POL. Basically, if you take out a loan in the platform, your collateral bears interest making it a self-repaying loan!
Abracadabra Money Tokenomics
At the center of the Abracadabra Money is the MIM token, a USD pegged stable coin that is backed by ibTKNs. MIM tokens are minted by the multisig holders on Ethereum, and only after being collateralized are they injected into circulation. In the future, they may be bridged to other blockchains. You can use MIM to buy other, more globally accepted stablecoins such as DAI and USDC, or you can buy Bitcoin with MIM directly on Bitfinex via the BTC/MIM pair.
Algorithmic stablecoins such as MIM are issued and burned from the circulating supply to keep their value pegged to the $1 mark. When a user deposits collateral to Abracadabra and takes out a MIM token loan, the platform mints fresh MIM into the supply, backed by the user's ibTKNs in the Collateral Debt Position. When you repay the MIM, the protocol burns MIM from the supply, reducing its overall circulation in the market. Those mechanics expand and contract the MIM supply, keeping it nailed to the stable $1 peg.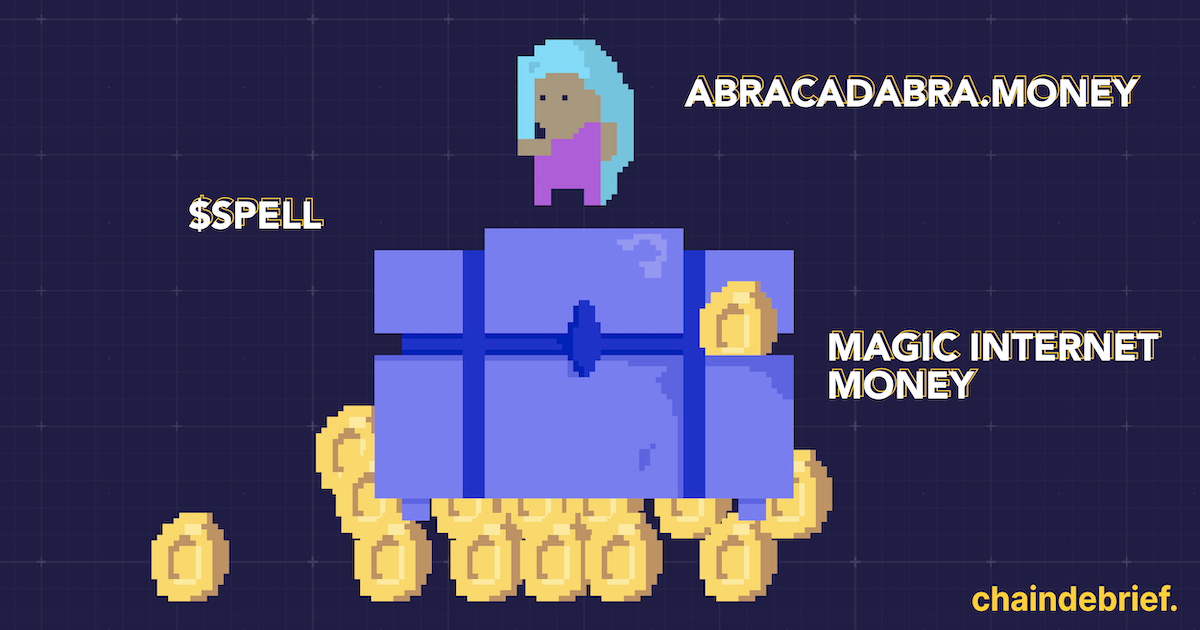 Although the MIM stablecoin is the primary token within the Abracadabra ecosystem, the Spell token and its close relative the sSPELL token each facilitate network governance and incentivize market participation. The Spell token facilitates governance on the Abracadabra crypto platform and has a total supply of 210 billion, distributed as follows:
Global farming incentives (63%): These tokens are used to incentivize particular LP pairs and mining programs. This targeted distribution helps ensure adequate liquidity across markets on the platform.
Team allocation (30%): These tokens have been retained for founding team members.
IDO (7%): The initial supply of Spell tokens was distributed to early project supporters via an Initial DEX Offering (IDO).
Spell Token will follow a ten-year halving model, which will cut in half the rewards distributed every year. 50% of team tokens are to be issued in the first year, 25% in the second, and 12.5% in the third and fourth years. Each week, 624 million SPELL are emitted. SPELL is also used as a governance token, with users having voting power according to how much they have staked.
Additionally, the similarly named sSPELL token facilitates fee-sharing and governance on platform. Users can stakeSPELL tokens to mint sSPELL, enabling fee-sharing in the SPELL staking pool and participation in the Abracadabra DAO. sSPELL crypto holders automatically earn fees proportional to their share of the SPELL staking pool. In addition, because those holding sSPELL or the SPELL/ETH Sushiswap LP token can participate in governance, staking SPELL doesn't have to mean forfeiting governance rights.
It's important to note that all sSPELL is subject to a 24-hour lock-up period, implemented to stabilize the staking pool. You'll collect a portion of interest, borrowing, and liquidation fees collected by Abracadabra in proportion to the amount of sSPELL you own. As your sSPELL collects fees, the platform automatically restakes those fees to compound your rewards continuously.
How Does Abracadabra Money Work?
Here's a compressed guide on how Abracadabra Money works:
Step 1 — Collaterals are deposited on Abracadabra.
Step 2 — A debt allocation, with interest, is assigned to the borrower.
Step 3 — MIM tokens are deposited into the borrower's wallet.
Step 4 — Users take their MIM wherever they like.
Basically, users need to deposit interest-bearing tokens to receive MIM and exchange it for other stablecoins or cryptocurrencies. When users are ready to get their collateral back, they need to return the original MIM amount plus interest to unlock their tokens. If their collateral's value drops below the loan-to-value ratio, the protocol takes possession of the collateral, an event called liquidation. On the plus side, they get to keep the MIM they borrowed.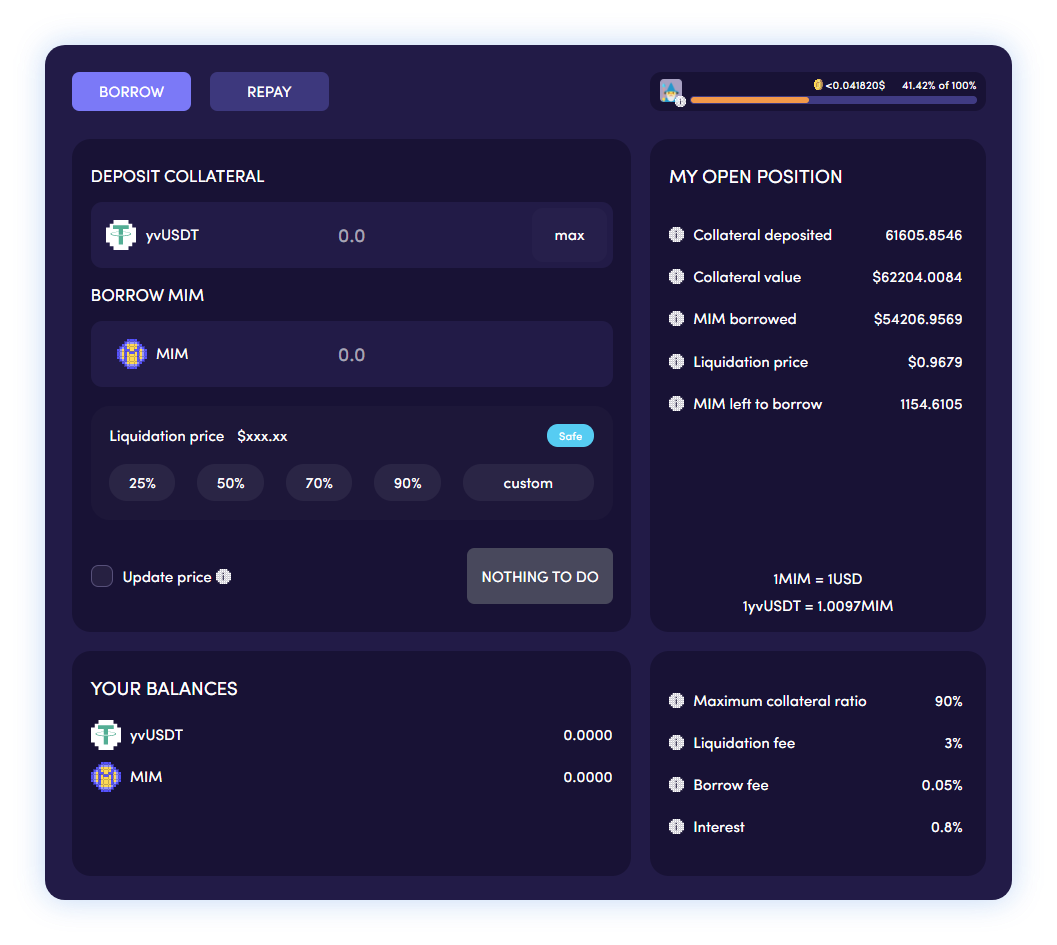 The design of Abracadabra Money shows that the team recognizes that users with funds tied up in yield-farming pools wanted to borrow against those positions. Since interest-bearing tokens increase in value over time, the amount one can borrow keeps rising. Moreover, people holding interest-bearing tokens don't want to give up their yields while their tokens are locked as collateral.
To illustrate, user A owns 100,000 USDT and he is a fan of Yearn. He has decided to deposit them into the USDT V2 yVault to earn handsome returns. He now owns yvUSDT tokens which have a current value of $100,000 and are increasing in value. Let's say user A gets bored and wants to use this money to buy himself a new car.
User can deposit the $100,000 worth of yvUSDT into Abracadabra, he can then choose how much risk he wants to take on. Let's say, he mints 90% of his collateral. After clicking "borrow" he will receive 90,000 MIM. He will be paying an interest rate of 0.8% because of his collateral choice. He can then swap his MIM for USDT, USDC or DAI. Assuming he chose USDT, he can swap MIM for USDT in the Curve MIM-3Pool Metapool and receive 90,000 USDT.
Now, he has the money to pay for his new car and even pimp his ride. Remember his yvUSDT is increasing in value while he is enjoying the proceeds of his DeFi loan. That's the game-changing value proposition of the Abracadabra ecosystem!
Spell Token (SPELL) Coin Overview
Spell Token is the platform's native currency based on the Ethereum blockchain. Though much higher in quantity than MIM, these coins are actually found less commonly in circulation. This is because they are largely used as a form of governance token on Abracadabra's own platform. Governance tokens give holders the option to either vote themselves or delegate their votes, regarding changes on the issuing platform's upgrades. This essentially means they become a form of stakeholder, and just as with normal stake holding; the more capital they pledge, the greater their say in proposed changes to that platform's format.
Spell tokens also allow their holders an option to earn passive income, by staking the actual tokens themselves as well. SPELL contributors are given MIM in exchange for their contributed tokens, which can also be used themselves (at risk of losing their SPELL). SPELL contributors also earn periodically from trading fees made on Abracadabra's platform when they stake SPELL. As mentioned in the tokenomics, these earnings are distributed via sSPELL.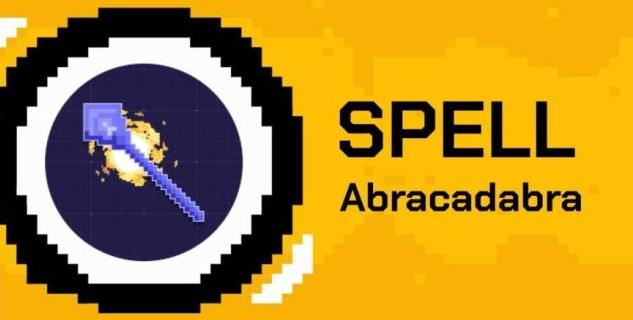 If you rent liquidity from providers in exchange for SPELL bribes long enough, there will likely come a day when those providers find better rewards elsewhere. When that day arrives, Abracadabra's total value locked will dwindle. To solve this, Abracadabra money teamed up with Olympus DAO to take control of its liquidity. Protocol-owned liquidity, or POL means the deep liquidity it rents is under its permanent discretion. POL allows protocols like Abracadabra to focus on delivering better products without having to worry about its liquidity seeping away.
Spell Token Current Market Status and Sentiment
As of press time, Spell Token is trading for $0.0010 with a 24-hour trading volume of $25,094,301. SPELL price has moved -9.36% in the last 24 hours. The current market cap of SPELL is $124,700,802.11 and it has a maximum supply of 196,008,739,620 tokens.
The top cryptocurrency exchanges for trading Spell Token stock are currently Binance, OKX, Bitget, Bybit and FTX. Meanwhile, here's the market sentiment about the price action of the token:
"There is a possibility that Spell Token can break through the $0.00186 barrier and hold the market by the end of 2023." – Digital Coin Price
"Spell Token will hit $0.000129 over 12 months, a decrease of roughly 91% so it is a bad long-term (one-year) investment." – Wallet Investor
"In 2022 the price of Spell Token is predicted to reach a minimum level of $0.002. The SPELL price can reach a maximum level of $0.002 with the average trading price of $0.002." -Price Prediction
"If the price doesn't break above $0.002 soon, then any Spell token price prediction of below $0.001 could become a reality." -Investing Cube
"The general Spell Token price prediction sentiment is bearish , with 1 technical analysis indicator signaling bullish signals, and 25 signaling bearish signals." – CoinCodex
Spell Token (SPELL) Price Analysis
After the token-generation event in May 2021, half of all SPELL was burned, thus reducing the supply from 420 billion to 210 billion. A further burn of 5.25 billion tokens was agreed in January 2022. In total, the current maximum supply is a touch over 196 billion from the original 420 billion. These burns targeted non-circulating tokens so it did not positively affect trading value.
Despite hyping the burning of 5.25 billion SPELL, the token still continued on its downward momentum thereafter, falling from $0.024 to $0.0045 by February 21, a drop of more than 80%. SPELL saw an all-time high of $0.075 on November 16, 2021, but has fallen further by roughly 98% from the previous all-time high to its current value.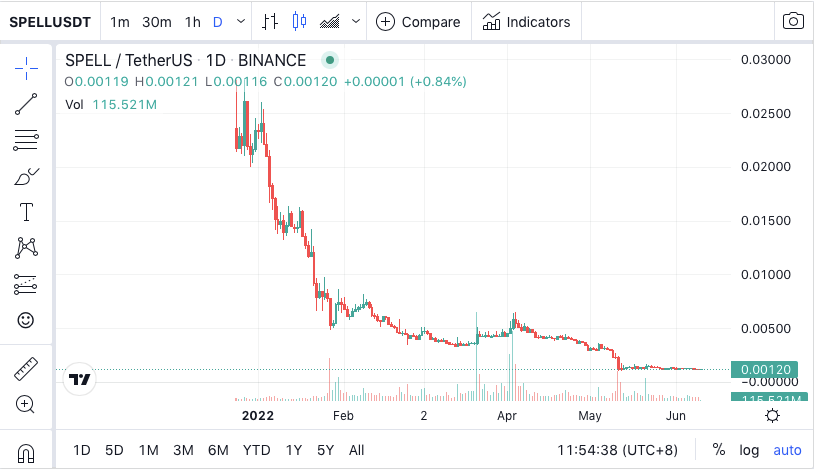 The crypto market entered a decline in the latter stages of 2021 and throughout Q1 2022, making downtrends inevitable. Spell token price prediction hangs by a thread as it keeps on making lower lows. Most of the DeFi coins are trading well below their 2021 all-time highs due to decreased investor interest. The ongoing slump in Bitcoin and Ethereum prices has intensified this downtrend. However, a cryptocurrency nearly halving in value over such a short period is likely to be a cause for concern among potential investors.
The key price level for Spell Token are the $0.001172, $0.001157 and $0.001141 support levels and the $0.001202, $0.001219 and $0.001233 resistance levels. Price breaks from those levels could indicate higher volatility in the coming days. Based on today's classical pivot point (P1) with the value of $0.001188, Spell Token has support levels of $0.001172, $0.001157 and the strongest at $0.001141. Similarly, Spell Token resistance levels are at $0.001202, $0.001219 and $0.001233.
Spell Token Price Prediction 2022
After an impressive performance in 2021, SPELL started 2022 at $0.024. Spell Token is predicted to reach a minimum level of $0.002 this year. Meanwhile, the minimum price can hit $0.002 with the average trading price of $0.002. The current Spell Token sentiment is bearish according to our technical and financial analysis. The majority of technical indicators are showing sell. Over the last 30 days, Spell Token had 13/30 (43%) green days.
The main question now for investors is if the DeFi token can rebound. Aside from qualitative factors, one of the main reasons why Spell Token had a rough start in 2022 is the controversy surrounding one of its founding members. A self-professed "on-chain sleuth" took to Twitter to claim that the chief financial officer of the project is the former co-founder of defunct cryptocurrency exchange QuadrigaCX, Michael Patryn. The controversial platform reportedly lost $169 million of investors' money.
After its meteoric rise of over 800% in the past year, the token tumbled by over 74% last January 2022 during the height of the issue. As shown in the price action, the scandal really rocked investor confidence. So the price prediction for 2022 considers whether the project can stabilize the situation. The Abracadabra ecosystem is an interesting result of protocol composability in DeFi. Composability allows protocols to click together like Lego pieces, creating new and increasingly efficient products for users. So product-wise, the project is on the upside.
Spell Token is currently trading below the 200-day simple moving average (SMA). The 200-day SMA has been signaling SELL for the last 139 days, since January 21, 2022. The token is also currently below the 50-day SMA and this indicator has been signaling SELL for the last 58 days, since April 12, 2022. Moving averages are a popular indicator in all financial markets. The purpose of a moving average (MA) is to smooth price action over a certain amount of time. Moving averages are a lagging indicator which means they are based on previous price action.
Meanwhile, the Relative Strength Index (RSI) momentum oscillator is a popular indicator that signals whether a cryptocurrency is oversold (below 30) or overbought (above 70). Currently, the RSI value is at 32.37, which indicates that the SPELL market is in a neutral position.
Spell Token Price Prediction 2023
Are you planning to purchase Spell Token in 2023? First, let's examine if Abracadabra Money has enough leg room to expand and build on its past success. Stablecoins and their use in decentralized finance (DeFi) have played a key role in the 2021 cryptocurrency bull market because they allow investors to participate in the ever-growing number of protocols that offer high yield staking pools and they ease the process of transacting without needing to use a centralized exchange. In this regard, the platform has seen a significant amount of adoption thanks to its focus on creating a truly decentralized ecosystem and asset-backed stablecoin.
One of the reasons why investors are taking a closer look at SPELL is its expanding ecosystem, which has recently added cross-chain support for multiple blockchain networks, including Fantom and the Binance Smart Chain (BSC). Moreover, the tokenomics structure of SPELL, includes governance votes on emissions to control inflation. To illustrate, a large number of tokens originally set to be minted are no longer needed due to increasing adoption and the uptick in price. Hence, the team has decided to decrease the emission schedule by 20% beginning last November 2021. This move effectively removed 8.7 billion Spell tokens from the current circulating supply.
Combining the factors above and our technical analysis, we are predicting a light lift in the price action on 2023. The price of Spell Token is predicted to reach at a minimum level of $0.003 in 2023. The Spell Token price can reach a maximum level of $0.004 with an average price of $0.003 throughout 2023.
Spell Token Price Prediction 2024
Implementing a lending system for the untapped interest-bearing token sector has vaulted Spell token into the top 100 tokens ranked by market capitalization last year. To repeat the same feat, the token needs to expand the ecosystem and integrate with other projects in order to provide cross-chain support. Moreover, the platform's move away from token dilution and toward protocol-owned liquidity via the la Olympus Pro initiative is a positive move for its long-term sustainability.
Given the considerations above, the price of Spell Token is predicted to reach a minimum level of $0.004. The SPELL price can reach a maximum level of $0.005 with the average trading price of $0.004.
Spell Token Price Prediction 2025
In 2025, the token will not come close to its all-time high but we will see a slight jump in the price action. Spell Token is predicted to reach at a minimum level of $0.007. The SPELL price can reach a maximum level of $0.008 with the average trading price of $0.007.
Spell Token Price Prediction 2026
2026 will be a tough year for Spell Token. Spell Token price is forecasted to reach a lowest possible level of $0.007. The maximum level will only be $0.010 with the average forecast price of $0.008.
Spell Token Price Prediction 2027
The price prediction of Spell Token in 2027 is bullish compared to 2026. However, in terms of lifetime value, it is a far cry from its former glory. The price of Spell token is forecasted to be around a minimum value of $0.014. The Spell Token price value can reach a maximum of $0.016 with the average trading value of $0.014 in USD.
Spell Token Price Prediction 2028
The price of Spell Token will continue to rise in 2028 albeit by a small margin. The token is predicted to reach a minimum value of $0.022 in 2028. The Spell Token price could reach a maximum value of $0.024 with the average trading price of $0.022 throughout 2028.
Spell Token Price Prediction 2029
2029 will be a turning point for Spell Token because it will give investors the last chance to buy the dip. The year 2029 can end with an average price of $0.027 and a minimum price value of $0.026. The maximum price is expected to be trading around $0.030.
Spell Token Price Prediction 2030
By 2030, Spell Token will finally perform within its all-time high level. We may expect an average price of $0.041. If everything goes smoothly, the maximum price of Spell Token could be up to $0.047.
FAQ
Latest News