Binance is currently one of the world's largest cryptocurrency exchanges, offering its users among the largest variety found in any trusted exchange in terms of the trading pairs that it supports. It allows traders and investors alike to purchase cryptocurrencies and a variety of related products using cryptocurrencies as well as fiat currencies.
In this review, we will review Binance so that you have a better idea of whether or not the platform is right for you.
What is Binance?

Binance is the largest cryptocurrency exchange in the world in terms of its daily trading volume. It offers a wide variety of advanced trading features and functionalities, which has led many to suggest that it is not a very beginner-friendly platform.
Newcomers to the world of cryptocurrency trading and investing might experience a steep learning curve as they are confronted with a lot of features that they might not entirely understand.
However, Binance continues to be extremely popular among traders, primarily due to its impressive selection of cryptocurrencies and fiat currencies that traders can access through the platform. Users also have the opportunity to access different types of trading charts, derivative contracts, as well as different order types.
Binance is available to users across the world and can be accessed through its web platform, desktop app, or mobile application available on both iOS and Android.
Over the years, Binance has expanded its service offerings to include the Binance Academy, which is the largest repository for all crypto and web-3 related knowledge; an NFT platform; several different forms of fixed and flexible staking opportunities; a Launchpad; and so much more.
Binance Review – Pros
The Binance trading platform has several pros associated with it, which include:
Wide Selection of Cryptocurrencies
Binance offers a collection of over 100 cryptocurrencies that users can trade. Currently, Binance has over 1300 trading pairs that you can choose from. This includes trading cryptocurrencies for fiat currency, stablecoins, popular coins such as Ethereum and Bitcoin, as well as the Binance native token – BNB or Binance Coin.
Very Easy Sign-up Process
The process to sign-up for an account on Binance is very simple and straightforward and has been described in detail below in the article. It only takes a few minutes to set up an account, fund it, and begin trading on Binance.
Support for Different Payment Methods
Binance supports a variety of payment methods, thereby making it easier for traders and investors to add and withdraw funds to their accounts. For example, if you wish to deposit money into your account, you can do so via credit/debit card, bank transfers, an existing cryptocurrency wallet, as well as several online wallets.
The fees charged by Binance for deposits and withdrawals are also quite low, which adds to the level of convenience.
Quick Executions
Binance allows for extremely quick executions of transactions depending on the currency pair that you choose to trade and the type of order you place. For market orders placed on popular trading pairs, the execution time is almost instantaneous, which reduces slippage and ensures that users can easily implement high-frequency trading strategies on Binance which require extremely quick order execution times.
Low Fees
While we are on the topic of implementing high-frequency trading strategies on Binance, it is worth mentioning that this ease is further increased by the extremely low fees that Binance charges.
These fees are reduced even further if you choose to make your transaction using the Binance Coin, ensuring that traders get to keep a large part of their trades, in contrast to other platforms that charge exorbitant trading fees. The fees have been discussed in detail below.
Different Order Types
Binance offers different order types and trading options that traders can choose from.
This includes spot trading, margin trading through isolated or cross-margin accounts, as well as peer-to-peer trading options, all of which have been discussed in detail below.
It also allows you to choose from different order types such as limit orders, market orders, stop-limit orders, stop market orders, trailing stop orders, and post-only orders, among others.
This gives traders a lot of flexibility in terms of how they choose to formulate and implement their trading strategies.
Multiple Staking Options
Binance also offers a variety of staking options on its platform, thereby enabling users to earn passive income on their investments.
This includes flexible staking options through Binance Earn, fixed staking options, as well as options to become a Liquidity Provider on approved projects.
Binance Review – Cons
Every coin has two sides, and the Binance trading platform is no exception. There are several cons associated with the platform, which include:
Steep Learning Curve
When it comes to newer investors or traders who might not be familiar with the world of cryptocurrencies and/or trading, Binance might not be the best choice of exchange.
There are several highly advanced features that Binance has which make it more suitable for advanced trading, however, these same features might make it very confusing for newer investors and traders. Traders might feel that they are not able to use the full suite of options and advantages presented by the Binance platform, which could be intimidated.
Limited in Some Countries
While we have mentioned in this Binance review that the platform offers a very high collection of cryptocurrencies to trade, this might not be the case worldwide. In several countries, including but not limited to the US, the Binance exchange offering is quite limited, and only includes around 65 cryptocurrencies.
Additionally, it is only available in 44 states, which might further cause traders and investors to begin looking at other platforms.
No Digital Wallet
Several exchanges in the world offer built-in digital wallets that users can access in order to store the cryptocurrencies that they buy through the platform, however, Binance is not one of them.
While it does have an on-platform wallet, this is quite limited in terms of the functionalities that it offers.
Binance recommends TrustWallet as their recommended digital wallet, however, transactions through this wallet can sometimes run into issues, in which case only limited support is provided.
Limited Regulation
As a cryptocurrency exchange, it is quite difficult for Binance to become regulated, and this is completely understandable in the industry.
However, even by the industry standards of regulation, Binance might not be as safe as its competitors in this regard.
The exchange has faced some security and regulatory issues in several countries with the authorities, which have raised some questions regarding the efficacy of the platform and how reliable it is.
Binance Review – History
The Binance Exchange was founded in 2017 by Changpeng Zhao, a software engineer. It started off as a decentralized cryptocurrency exchange based in China, however, it soon had to leave China due to regulatory as well as safety issues. The operations of Binance have historically been centered around Japan and Malta, however, it is not officially based in any particular country due to regulations surrounding cryptocurrency firms and exchanges.
As Binance grew, it found that its user base was growing incredibly fast, and this was primarily due to the range of advantages that the Binance exchange offered: a wide selection of cryptocurrencies, low fees, easy and varied deposit options, as well as the range of innovative products offered. This led Binance to quickly become the largest cryptocurrency exchange in the world, handling billions of dollars in trading volume every day.
Binance Review – Cryptocurrencies Available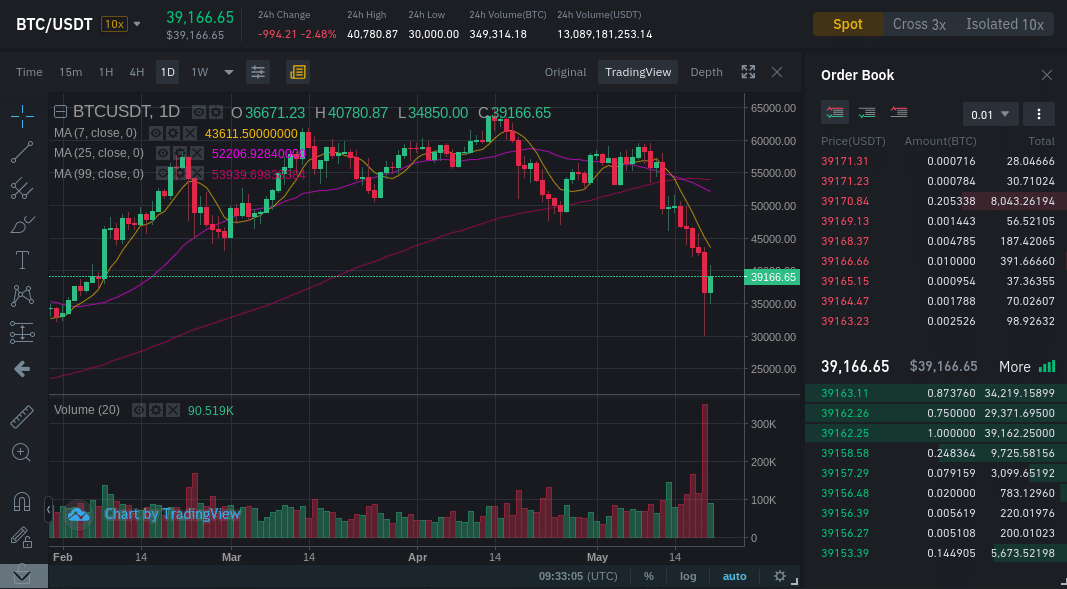 As we have discussed in the past, Binance is the largest cryptocurrency exchange in the world, and this is almost directly a product of the fact that it offers an extremely large variety of products for users to trade.
For instance, Binance currently has over 400 cryptocurrencies listed on its platform, all of which are available to users for trading. Of course, as we mentioned earlier, this can be slightly limited from country to country based on regulations.
Owing to the large number of pairs listed on Binance, users that wish to trade smaller or more exotic cryptocurrencies can also do so through the exchange, and this has also been a factor in the quick growth of the platform.
The Binance Exchange has its own native token, which is the Binance Coin (BNB), which you can use in order to get a discount on the trading fees that you pay while executing a transaction. At the same time, Binance also has its own stablecoin, called the Binance USD or BUSD. Some of the major cryptocurrencies that you can trade through Binance include:
Bitcoin (BTC)
Ethereum (ETH)
Solana (SOL)
Dogecoin (DOGE)
Cardano (ADA)
Dash (DASH)
Polygon (MATIC)
Litecoin (LTC)
and hundreds of others…
Binance also frequently lists new coins as and when they are launched into the market. In addition to this, users also have the opportunity to participate in the launch of new cryptocurrencies through the Binance Launchpool, which gives Binance users early access to the latest projects in the blockchain space.
Binance Review – Fees
Any trading platform charges two types of fees: trading fees and non-trading fees.
Binance Trading Fee
Trading fees refer to the fees that users pay in order to place orders on the platform and have them executed. Most cryptocurrency exchanges charge trading fees in one of two ways: they either charge spreads or commissions.
Spreads
Spreads refer to the difference between the bid price and the ask price. This model is primarily adopted by market-maker trading platforms that assume the position of the counterparty in the trade. Therefore, you are effectively trading against the platform.
When this happens, there is usually a difference between the price at which you can buy the asset and the price at which the asset can be sold at any given moment. The buying price, also called the bid price, is almost always higher, and the difference between these two prices is called a spread.
What this effectively means is that if you were to buy and sell an asset at the same time, you would actually incur a loss.
Commissions
The other form of trading fee that might be charged by an exchange is a flat commission on every trade that you make. This is usually a very small percentage of the trading volume and is done in a decreasing manner, i.e. the higher your trading volume, the lower the fees that you will have to pay in this regard.
Binance Trading Fee Structure
Binance primarily charges trading fees in the form of commissions that you pay for every successful trade.
However, the extent of the commissions charged can differ greatly. For example, if you were to trade through the Binance Coin (BNB), you would be able to get a discount on the fees that you pay. In some cases, the discount you get can even be as high as 25%.
Additionally, your trading volume directly determines your fees, which means that the more you trade, the lower the commissions that will be charged on your trades.
Binance Maker/Taker Structure
Another important point to consider when it comes to the fees that Binance charges are that it employs a maker/taker fee structure. Here's what that means:
Orders that add liquidity to the market are called maker orders and are charged a lower fee.
Orders that take away liquidity from the market are called taker orders and are charged higher fees.
Binance VIP Structure
Lastly, the fees you pay on Binance can also differ based on the VIP level that you are at. Different VIP Levels can be achieved by trading higher than a certain volume of assets. The different VIP Levels have been listed below.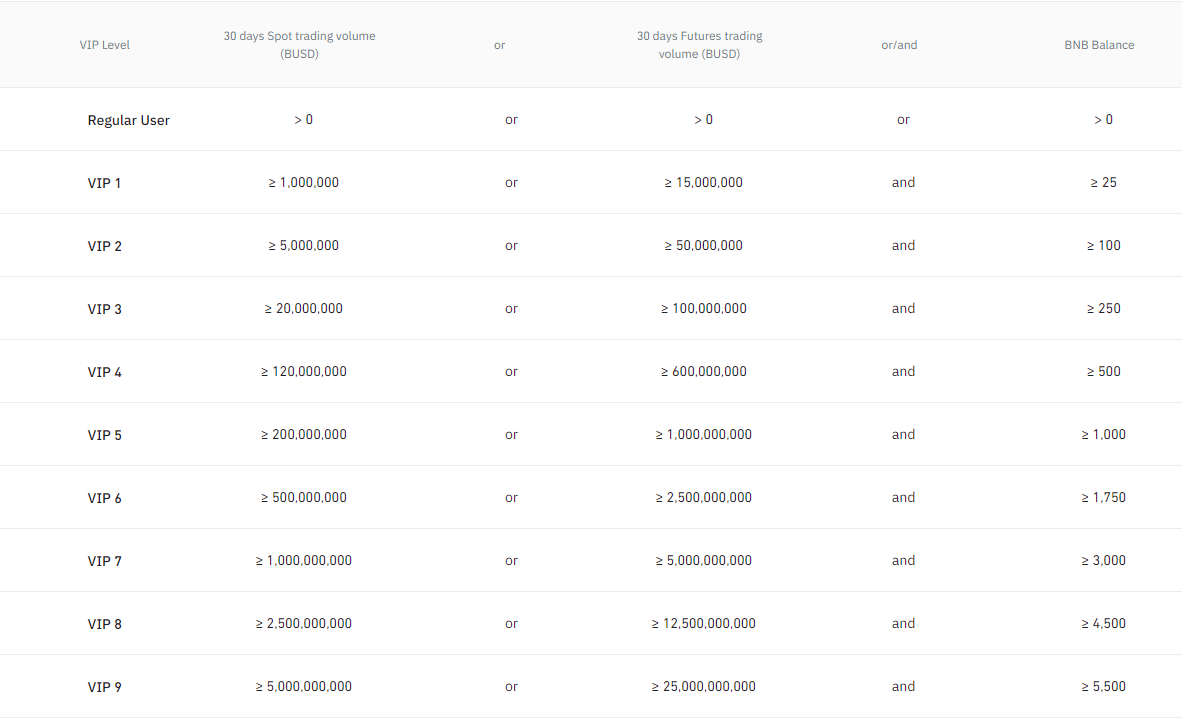 Binance Non-Trading Fee
In addition to the trading fee, cryptocurrency platforms often also charge a variety of other incidental fees and charges. These have been discussed in detail below.
Deposit Fees
Most cryptocurrency exchanges charge fees in order to allow users to deposit money into their accounts. On Binance, there are no charges associated with depositing funds to your Binance account, whether you choose to do so in the form of fiat currency or cryptocurrencies. The only fees that you will end up paying are the network fees associated with the deposit.
Withdrawal Fees
Similar to deposit fees, most cryptocurrency exchanges also charge fees if you wish to withdraw money out of the platform. When you wish to withdraw money from your Binance account, there are withdrawal charges associated with it, depending on the method of withdrawal you choose.
For example, withdrawals to crypto wallets are free apart from the gas fees you pay for the transfer.
On the other hand, when you choose to withdraw funds into your debit/credit card, you will be charged a 4.5% fee on the amount that you withdraw.
Similar charges also apply to withdrawals into your bank account depending on what country and currency you choose to withdraw in.
Binance Review – Platform Features
There are several features and options that the Binance exchange offers for traders and investors. These have been discussed below in detail.
Derivative Markets
While most cryptocurrency exchanges only allow users to trade spot products on cryptocurrencies, Binance also allows users to trade a variety of derivative products. This includes futures, leveraged coin products, as well as options. The process of trading derivatives with Binance is also pretty straightforward, with the fees being much lower than the industry standard.
Research Capabilities
Binance also wishes to serve as a repository of knowledge about cryptocurrencies and the Web3 world so that they can use this to help their users upskill. The Binance Academy offers a range of expert advice, trading strategies, as well as solutions to problems commonly faced by users on the platform.
Additionally, the Binance trading platform also provides a range of market research content that helps keep traders informed about the latest happenings in the market and enables them to make smarter trading decisions.
The research and analysis that Binance provides are dynamic and institutional-grade, making it a very reliable source of information.
Financing
Traders on the Binance exchange can earn in a variety of ways, which are not necessarily limited to trading profits. For example, staking rewards are provided to users who commit to staking their crypto assets for a long period of time. Similarly, Binance also offers the option of loans for cryptocurrencies, helping traders with financing options.
Binance also offers referral bonuses for users to refer their friends and encourage them to trade on Binance.
Binance Launch
We discussed Binance Launch in an earlier part of this Binance review. The launch of a new cryptocurrency is perhaps the best time for traders to get in, as it ensures that they will continue to profit as the value of the cryptocurrency goes up.
Binance makes it easier for traders to do so, by launching newer cryptocurrencies through Binance Launch and informing traders about these launches. It also ensures that the coins being launched in this manner have a verified whitepaper, thereby adding a degree of security to the launches.
Binance Cloud
Binance Cloud is one of the platform's newest innovations, and it allows blockchain projects to focus on their business operations and development by taking over their infrastructure requirements.
It is a comprehensive solution that offers a variety of services, including but not limited to spot trading, including fiat-to-crypto, crypto-to-crypto, and P2P fiat trading. The revenue model of the Binance Cloud plan is also quite simple: it charges an annual fee along with commissions on every trade made.
Binance Charity
Binance Charity was founded as a response to the opaque nature of most charities that exist in the world. The Binance Charity Foundation is a blockchain charity project that focuses on the principle of transparency.
It aims to demonstrate the potential applications of blockchain technologies in the field of charity by helping alleviate global poverty and targeting a wide variety of social issues. Donations made through the Binance Charity Foundation go directly to the end beneficiaries, and there are no intermediaries involved in this regard.
Binance Affiliate Program
The Binance Exchange also has its own affiliate program, through which traders can get up to 50% commissions on any successful qualified trades. Users who register using a unique link will earn commissions on every trade that is made by their referrals.
These commissions will be earned across the spot markets, futures markets, and the Binance margin trading markets. This program is primarily limited to advanced traders, and users have to submit an application to the platform before being allowed to participate.
Binance OTC Trading Portal
Binance also recently announced its trading portal. This can be used by traders in order to avoid slippage while executing larger trades and is one of the most popular tools that is preferred for advanced trading. Binance is the first crypto exchange to offer this option to its users.
Using the OTC portal, traders can conduct crypto transactions according to the price movements, and the best part is that no additional fees are charged for making OTC trades.
Trades can be made by users using over 25 different cryptocurrencies once they verify their account and complete a Level-2 verification.
Binance Review – Security Features
This Binance review also talks about the single largest factor that has ensured that Binance could stay popular among traders for prolonged periods of time – its security features. Binance ensures a high level of security using a host of features, which include:
Two-Factor Authentication
Binance requires its users to complete a two-factor authentication process, either through the Google Authenticator app or through SMS before they are allowed to trade with Binance. The same process is also repeated for withdrawals from the platform.
This process is used to not only protect the user from unwanted interference, but also secure credible information on the account, and can add an extra layer of protection to the exchange.
Other Security Features
Binance also has a variety of other security features associated with it, such as the option to whitelist crypto wallet addresses, enabling better device management that allows users to check exactly how many devices their account is logged in on at a time, and the ability of users to restrict what devices can and cannot access their accounts.
Additionally, the Binance platform also provides FDIC insurance on all the US Dollar deposits that are made on Binance US.
Despite all these security measures, the crypto exchange is still not free from hacks and cyber-attacks. Due to the extremely high volume of transactions that are conducted every day on the platform, there have been several instances wherein users tried to compromise the safety of Binance. However, Binance often suspends its services until the point where it can ensure that the platform and the funds in its wallets are 100% safe.
Binance Review – How to Sign Up
As we discussed earlier, the process of signing up on Binance for a trading account is actually quite straightforward and has been discussed below in detail.
Step 1: Sign Up for Binance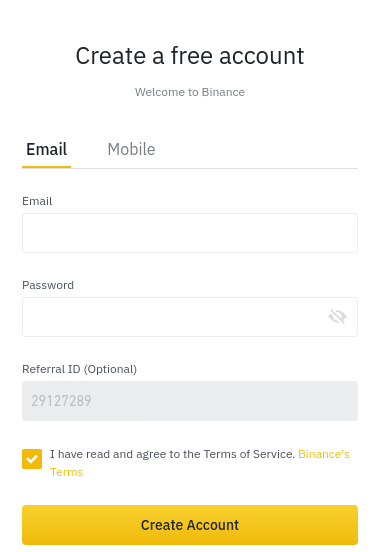 This step is as simple as heading over to the Binance website and clicking on the sign-up button. At this stage, you will then be asked to enter your information, including your name, email address, and contact information. Additionally, you will be asked to set up a password for your account.
Step 2: Deposit Funds
The next step is to deposit funds into your account. You can only do this once you have verified your account and completed the KYC process, which requires you to submit your proof of identity and proof of address.
You can then deposit funds to your Binance Account through your bank account, credit/debit card, or any existing crypto wallet. Funds can be added in the form of both fiat currency and cryptocurrencies.
Step 3: Begin Trading
The last step for you is to simply begin trading. To do this, once you have deposited the funds into your account, simply head over to the Marketplace, search for the crypto pair you wish to trade, enter the amount, and click on buy or sell. The order will be executed almost instantaneously.
Binance Review – Final Verdict
While Binance is definitely the largest and most popular crypto exchange in the world, it is primarily suitable only for advanced trading. It offers a very large range of cryptocurrencies for trading, low fees, different market and order types, as well as extensive research, all of which can be used by traders in order to make optimal trading decisions.
If you're a medium to advanced trader based in a country where Binance offers its full range of services, and are looking for a way through which you can access the cryptocurrency market easily, then Binance is definitely the right platform for you.
Binance Official Website
Funds can be withdrawn 24 hours
Low fees, comprehensive charting options
Hundreds of cryptocurrencies
Fees: 0.10% spot-trading fees
Massive selection of transaction types
Extremely user-friendly platform
Visit Binance
You have the possibility to lose money when trading CFDs with this provider. Only invest what you can afford to lose.