When it comes to trading cryptocurrencies or even investing your funds, there are a variety of different exchanges that you can use for this purpose. However, depending on the type of coins you wish to trade, the level of experience you have, as well as the payment methods you wish to use, different platforms might be more suitable for you. The choice of the right trading platform that suits your needs is a crucial part of being a successful trader.
In this Coinbase review, we will analyze Coinbase as a crypto exchange, and identify the types of traders that the platform is most suited for.
What is Coinbase?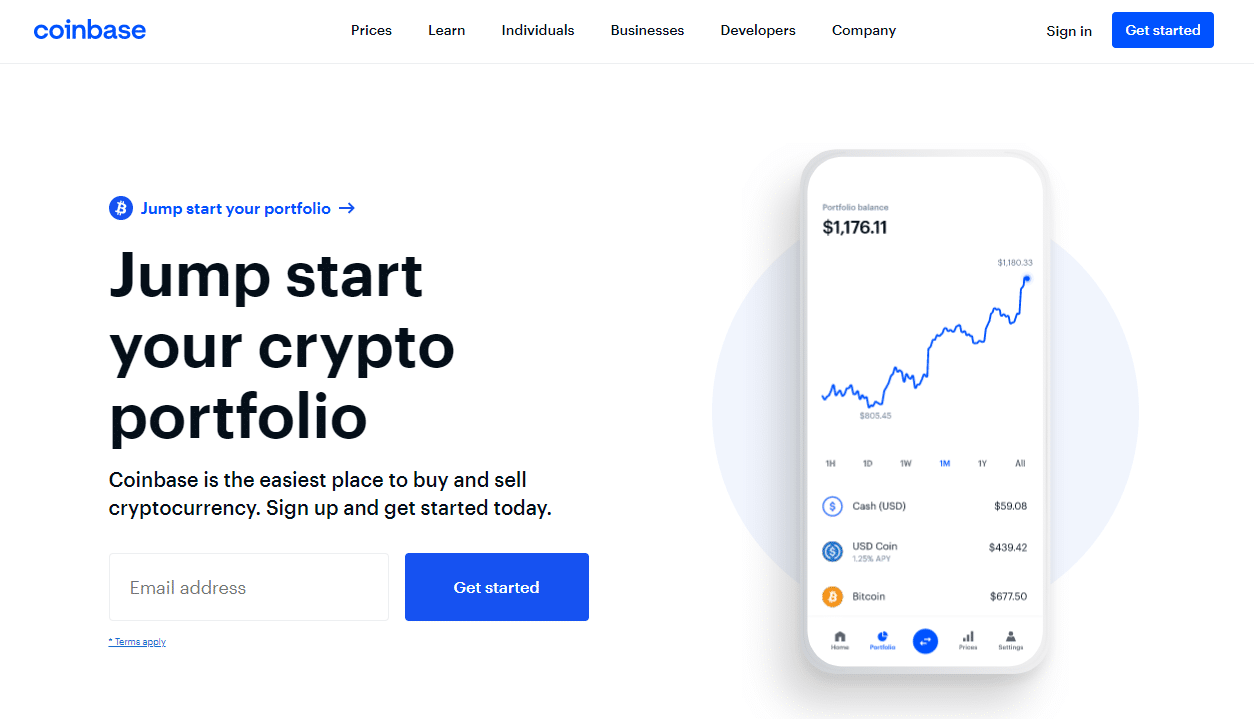 The Coinbase Exchange was launched 3 years after the creation of Bitcoin in 2009 and has quickly grown to become one of the largest cryptocurrency exchanges in the world. It allows traders to buy, sell, or hold a variety of cryptocurrencies, which include but are not limited to Bitcoin, Ethereum, Cardano, Solana, and Dogecoin among others.
All in all, Coinbase allows active users to trade over 1000 cryptocurrencies and virtual assets.
In addition to this, Coinbase also has a B2B element to its service offering, which includes a range of investment options that are relevant primarily to businesses and institutions who wish to get more involved in the cryptocurrency space. For example, these services include storage for crypto assets, commerce services, and a host of other similar services.
As of the time of writing this review, the Coinbase platform boasts over 85 million verified retail users, 10,000 institutional users, as well as 185,000 ecosystem partners all over the world.
In addition to this, Coinbase is also the only major crypto exchange to be publicly listed on the equity markets. It went public through a direct listing on the NASDAQ exchange following the cryptocurrency market boom following the pandemic.
Coinbase Pros
The Coinbase trading platform has several pros associated with it, which include:
Designed for Beginners
Unlike most other cryptocurrency exchange platforms that are normally designed for users with some level of technical expertise, Coinbase is designed keeping beginners in mind.
Therefore, whether or not you are familiar with the world of cryptocurrencies and/or trading, you can use the Coinbase platform very easily, as it is quite intuitive.
While the platform does offer some advanced features, it offers a simpler view too, and this is a very good tool for beginners who do not wish to get intimidated by all the fancy tools and terminologies of the platform. This is true for both the Coinbase web platform as well as their mobile app.
Large Variety of Cryptocurrencies
The Coinbase exchange is one of the largest and most popular in the world, and this is largely attributable to the sheer number of cryptocurrencies that they support and provide access to.
Through Coinbase, users can trade over 100 cryptocurrencies, which includes all the major coins as well as some exotic cryptocurrencies too.
This number isn't fixed and keeps growing from time to time as Coinbase keeps adding newer and more popular coins to its platform. In fact, the Coinbase exchange is so popular that merely getting listed on it is enough to boost a cryptocurrency's price due to the new enhanced liquidity that it enjoys.
Passive Income Opportunities
Most traders do not trade all the time, and some of them might choose to wait out certain market periods, especially if there is a very strong bear market. At such times, the Coinbase suite of passive income products comes in handy, allowing traders to earn passive income on their idle investments.
Through Coinbase Earn, users can earn interest on eligible balances or get a small portion of a newer currency, simply by signing up and agreeing to subscribe to the Coinbase Earn services.
Educational Opportunities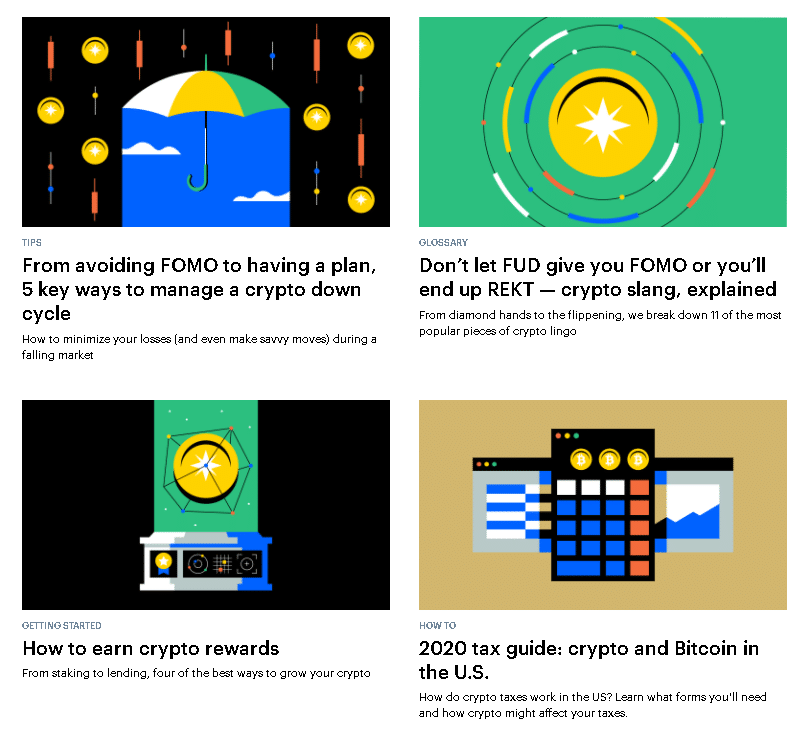 The cryptocurrency world is fast-changing and dynamic, with new technologies emerging and making older ones obsolete every other day. In such a world, it can be hard to keep track of all the developments, which might be intimidating to users.
Additionally, there are several users who are only just starting out in the world of blockchains and cryptocurrencies, and they might not know how they function and what the key elements are.
For such users, the suite of educational resources provided by Coinbase is incredibly useful. Coinbase provides a series of video classes and exams that aim to educate users about cryptocurrency trading as well as the latest developments in the space.
Additionally, these educational videos often employ the "earn as you learn" approach, allowing users to earn cryptocurrency rewards upon completion of these videos once users pass the exams. This can make the whole learning process a lot more fun and make it easier for users to understand the cryptocurrency world.
Low Minimum Balances
The cryptocurrency markets are known for their volatility, which in turn means that several newer investors or traders might not want to risk a lot of their capital into such investments.
For such users, Coinbase is the right platform to target, because it requires a very small minimum deposit in order to begin trading through the platform. In order to get started on the platform, users only need to deposit a minimum of $50.
Additionally, the minimum trade size on Coinbase is also quite low at only $2. Therefore, what this means is that you can place orders on Coinbase with an amount as low as $2.
Quick Sign-up Process
One of the biggest issues faced by people trying to sign up for cryptocurrency trading platforms is the long process and the high waiting times, especially for the KYC process.
Coinbase is one of the major exceptions to this, offering a quick and seamless sign-up process that only takes a few minutes. In addition to this, the verification/KYC process is also incredibly quick, and can even be instantaneous in some cases.
Coinbase Debit Card
One of the biggest use cases for cryptocurrencies is that they can be used to make payments for goods and services. While there have been notable developments in this regard, with several vendors and businesses beginning to accept payments in cryptocurrencies, this transition is a long way from complete, and businesses that accept cryptocurrency payments are quite rare.
The Coinbase Debit Card offering fixes this by allowing users to spend their cryptocurrencies or any US dollars that they have deposited into the account from anywhere.
It also has a variety of other functionalities – for example, a user could choose to deposit their paycheck into the Coinbase Debit Card and then use that to convert their salary from USD to cryptocurrencies without facing any fees or charges.
The Coinbase Debit Card has been hailed as a major step in the widespread adoption of cryptocurrencies in the financial landscape.
Highly Regulated
As we mentioned earlier in this Coinbase review, the Coinbase exchange is one of the only cryptocurrency exchanges in the world that is publicly listed on the equity markets. This also makes it one of the most highly regulated platforms in the world.
Due to its public listing, the Coinbase platform has to maintain a certain degree of transparency and is often audited by regulators to ensure that the platform is in a general state of financial wellbeing.
Therefore, in a world where most cryptocurrency exchanges are entirely unregulated, Coinbase and Coinbase Pro offer a useful alternative by providing investors and traders with a safe platform in which they can park their cryptocurrency assets.
Low Fees
For active traders, the fees they pay as a part of trading on any platform become a major part of their profitability calculations. Therefore, they are constantly on the lookout for platforms that can allow them to trade with lower fees.
Coinbase Pro is one such platform. It was designed specifically for active traders, and any Coinbase user can easily switch to the Coinbase Pro version.
The Coinbase Pro platform boasts a lot more features than the Coinbase Standard platform, and also offers traders the opportunity to trade with lower fees.
Coinbase Cons
Every coin has two sides, and the Coinbase trading platform is no exception. There are several cons associated with the platform, which include:
Poor Customer Service
One of the biggest drawbacks of using the Coinbase platform is the fact that they have very poor customer service, and they have frequently been accused of being unresponsive or unhelpful by users.
This becomes a bigger issue when you consider the fact that the Coinbase customer service has been unhelpful even when it comes to serious account security issues and problems.
Comparatively Small List of Altcoins
Earlier in this Coinbase review, we mentioned how Coinbase provides users with access to a very large variety of cryptocurrencies and altcoins.
While that is true, when compared to its peers in the industry, such as Binance for example, the platform's crypto offerings suddenly begin to look quite small.
What this means is that there are several altcoins that are quite popular and yet are missing from the platform, which can become a problem for users that are looking to trade these altcoins.
High Fees
While Coinbase Pro offers traders the opportunity to trade with quite low fees, the standard Coinbase platform still has extremely high fees, as we will see in the Fees section of this Coinbase review.
For most transactions on the Coinbase Standard platform, the transaction fees are quite high, which cut into the profits of the traders, and can make the platform quite unattractive to active and regular traders if they choose to not use Coinbase Pro.
Security Issues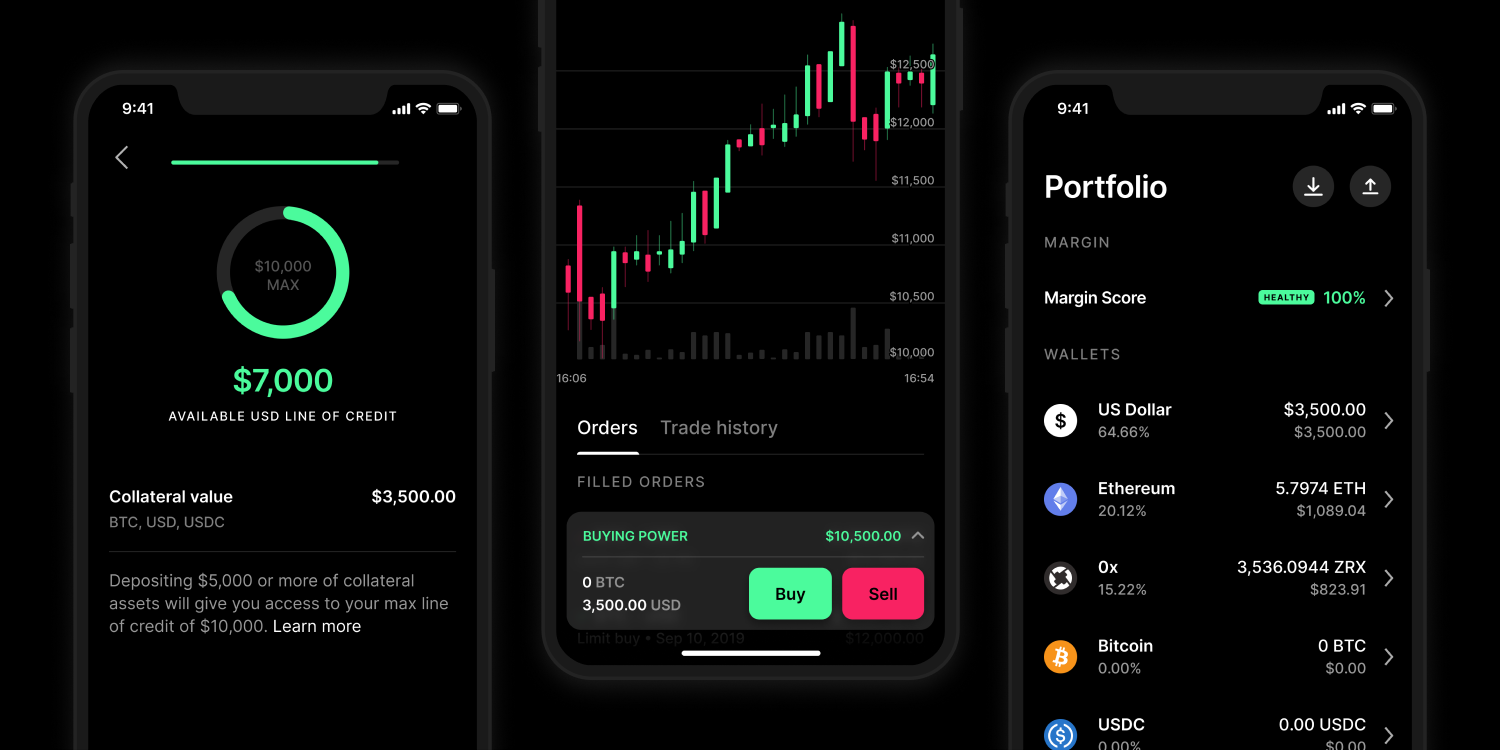 Coinbase has frequently been accused of engaging in security breaches and disrespecting the privacy of its users.
For example, the most notable case of this has been when it was revealed that Coinbase tried to sell its analytical data to the IRS and DEA, which would have been a breach of its users' privacy.
Additionally, the platform has also been the target of several cyberattacks and hacks, which have resulted in several millions of dollars in losses from the wallets of Coinbase users. This, combined with its poor customer service, has made several of its customers look for other platforms that offer a higher level of security.
Complex Fee Structure
The Coinbase fees structure, especially for the Standard account, is also quite complex, which makes it difficult for users to know what fees they are going to be charged for the transactions and trades that they make.
This is a major issue for regular traders who trade using specific strategies since they need to be able to predict the fees that they will be charged and alter their profitability expectations accordingly.
However, this is incredibly difficult with Coinbase, since there are several different factors that affect the fees that users are charged.
Locking User Accounts
There have been reported instances where Coinbase has locked user accounts and frozen their wallets without offering any explanations or warnings.
Given the bad state of their customer service offerings, it becomes quite difficult to get any clarity on why this blockage/ban was placed, which has led to several investors on the platform becoming quite frustrated.
Whenever Coinbase decides to block an account, it does not return the funds that were deposited in the account to the users, which results in a significant loss of funds for the user in question.
Additionally, the platform is also known for going down and facing technical issues very frequently, which can result in accounts randomly getting locked. This also prevents trades from going through and limit orders from being executed, leading to significant losses for traders.
Withdrawal Blockages
There have been a few reported instances where users have tried to withdraw their funds only to find that their withdrawal capabilities were blocked.
This is also quite frustrating, and the fact that users are sometimes unable to freely withdraw funds from their Coinbase accounts and wallets is a source of frustration and disappointment for many users.
Coinbase History
As mentioned earlier, the Coinbase exchange was started in 2012, 3 years after the creation of Bitcoin, as a way to send and receive Bitcoins easily. It currently has operations in over 33 countries across the world and serves more than 100 countries worldwide.
The Coinbase exchange also has among the highest trading volumes worldwide, with the latest figures indicating that users trade over $309 billion dollars in assets every quarter, or just over $3 billion in daily trading volumes through the platform.
One of the key things to note about Coinbase, as we mentioned earlier in this Coinbase review, is that it is a highly regulated platform. It recently received BitLicense, which is a mandatory license that is required for exchanges operating in New York City. BitLicense is a well-known exchanger that has very strict compliance rules, and the license is only provided to the best exchanges in the world.
Because of the fact that Coinbase was established quite early in the cryptocurrency cycle, it received a lot of attention from prominent investors looking to get involved in the space. Some of the earliest backers of the Coinbase exchange include Fred Wilson from Union Square Venture Capital, Andreessen Horowitz, and Union Square Venture Capital.
Starting out as a service for people to send and receive Bitcoins, Coinbase has now grown to have a very diverse service offering – consisting of two separate trading platforms along with a standalone cryptocurrency wallet service, all of which have been discussed below in the review.
Coinbase – Cryptocurrencies Available
As we have discussed in the past, Coinbase is among the largest cryptocurrency exchanges in the world, and therefore, it has among the largest collection of cryptocurrencies in the world.
For instance, currently, users can trade over 100 different cryptocurrencies on Coinbase, either by exchanging them for fiat currency or for other cryptocurrencies.
Coinbase also regularly keeps adding newer cryptocurrencies to its platform, therefore, as and when coins grow more popular, they are listed on the Coinbase Exchange and are then available to trade.
Some of the major cryptocurrencies that can currently be traded Through Coinbase include:
Bitcoin (BTC)
Ethereum (ETH)
Cardano (ADA)
Solana (SOL)
Polkadot (DOT)
USD Coin (USDC)
Dogecoin (DOGE)
Uniswap (UNI)
Litecoin (LTC)
Shiba Inu (SHIB)
Algorand (ALGO)
Stellar Lumens (XLM)
Polygon (MATIC)
DAI (DAI)
SushiSwap (SUSHI)
Coinbase Fees
For any trading platform, there are two main types of fees that it normally charges users – trading fees and non-trading fees, A brief explanation of each of these types of fees, along with the Coinbase fee structure, has been provided below.
Trading Fees
Trading fees refer to any fees that are paid as a result of using the platform's primary services, which in this case is the buying and selling of cryptocurrencies and digital assets. Most cryptocurrency exchanges charge transaction fees in one of two ways: they either charge spreads or commissions.
Spreads
Spreads refer to the difference between the bid price and the ask price. This model is primarily adopted by market-maker trading platforms that assume the position of the counterparty in the trade. Therefore, you are effectively trading against the platform.
When this happens, there is usually a difference between the price at which you can buy the asset and the price at which the asset can be sold at any given moment. The buying price, also called the bid price, is almost always higher, and the difference between these two prices is called a spread.
What this effectively means is that if you were to buy and sell an asset at the same time, you would actually incur a loss.
Commissions
The other form of trading fee that might be charged by an exchange is a flat commission on every trade that you make. This is usually a very small percentage of the trading volume and is done in a decreasing manner, i.e. the higher your trading volume, the lower the fees that you will have to pay in this regard.
Coinbase Fees
The Coinbase transaction fees model is a combination of the spread-based and the commission-based system. Let us look at the commissions associated with trading on Coinbase first.
While Coinbase is not very forthcoming about its fee structure and recently removed the comprehensive fee structures from its website, the fees you will have to pay for entering a trade are displayed when you are about to enter a trade.
For trades of $10 or less: the flat commission rate is $0.99 per trade.
For trades of $10 – $25: the flat commission rate is $1.49 per trade.
For trades of $25 – $50: the flat commission rate is $1.99 per trade.
For trades of $50 – $200: the flat commission rate is $2.99 per trade.
For trades above $200: A % based flat fee is applied based on the volume of the trade.
In addition to this, every trade on Coinbase also has a 0.50% spread between the bid and ask price.
Non-Trading Fee
In addition to the trading fee, cryptocurrency platforms often also charge a variety of other incidental fees and charges that are not directly linked to the trading activity on the platform. These have been discussed in detail below.
Deposit Fees
Most cryptocurrency exchanges charge fees in order to allow users to deposit money into their accounts. On Coinbase, the deposit fees are dependent on the method you choose to use to deposit money onto the platform.
For example, if you choose to deposit funds through your bank account, you will be charged a 1.49% deposit fee.
If you choose to deposit funds into your Coinbase account using a credit or debit card, then the fees associated with this are slightly higher, at 3.99%.
If you already have cryptocurrency funds on another platform and wish to simply transfer these onto Coinbase accounts, then you will have to pay a fee of 2% in addition to the gas fees associated with the transfer.
Withdrawal Fees
Similar to deposit fees, most cryptocurrency exchanges also charge fees if you wish to withdraw money out of the platform. When you wish to withdraw money from your Coinbase account, there are withdrawal charges associated with it, depending on the method of withdrawal you choose.
These charges are more or less the same as those associated with the deposit of money into your account.
Coinbase Features
There are a variety of services and features associated with Coinbase. As we discussed earlier, even though Coinbase started out as a simple way of sending and receiving Bitcoins, it has evolved to become so much more than that. The major components of the Coinbase Ecosystem have been discussed below in detail.
Coinbase Brokerage
This is the main service that Coinbase offers – the facilitation of the buying and selling of cryptocurrencies online through the Coinbase exchange. Because of the simple and intuitive way in which the platform has been designed, it is incredibly popular with newer investors.
Owing to the platform's simplistic interface, it is quite attractive for beginner investors who are just getting started with the world of cryptocurrency investing and trading. However, the platform is not free from its downsides.
For example, one of the main concerns that users generally have is that they have very little control over their own funds. Users who set up a Coinbase account usually do not get a private key or a seed phrase that they can use to access their funds outside of the Coinbase exchange.
If users wish to have independent access and/or control over the funds they deposit onto their Coinbase wallet, they have to download the separate Coinbase Wallet app.
An alternative that is often used by experienced traders is to simply get another non-custodial wallet and transfer the funds to it, however, this can be quite expensive in terms of the charges and the gas fees you incur.
If you choose not to do this, then Coinbase will store your coins for you, and the process will be very similar to that of depositing your funds into a bank account – you own the funds, but the bank (Coinbase in this case) controls them.
Coinbase Pro Platform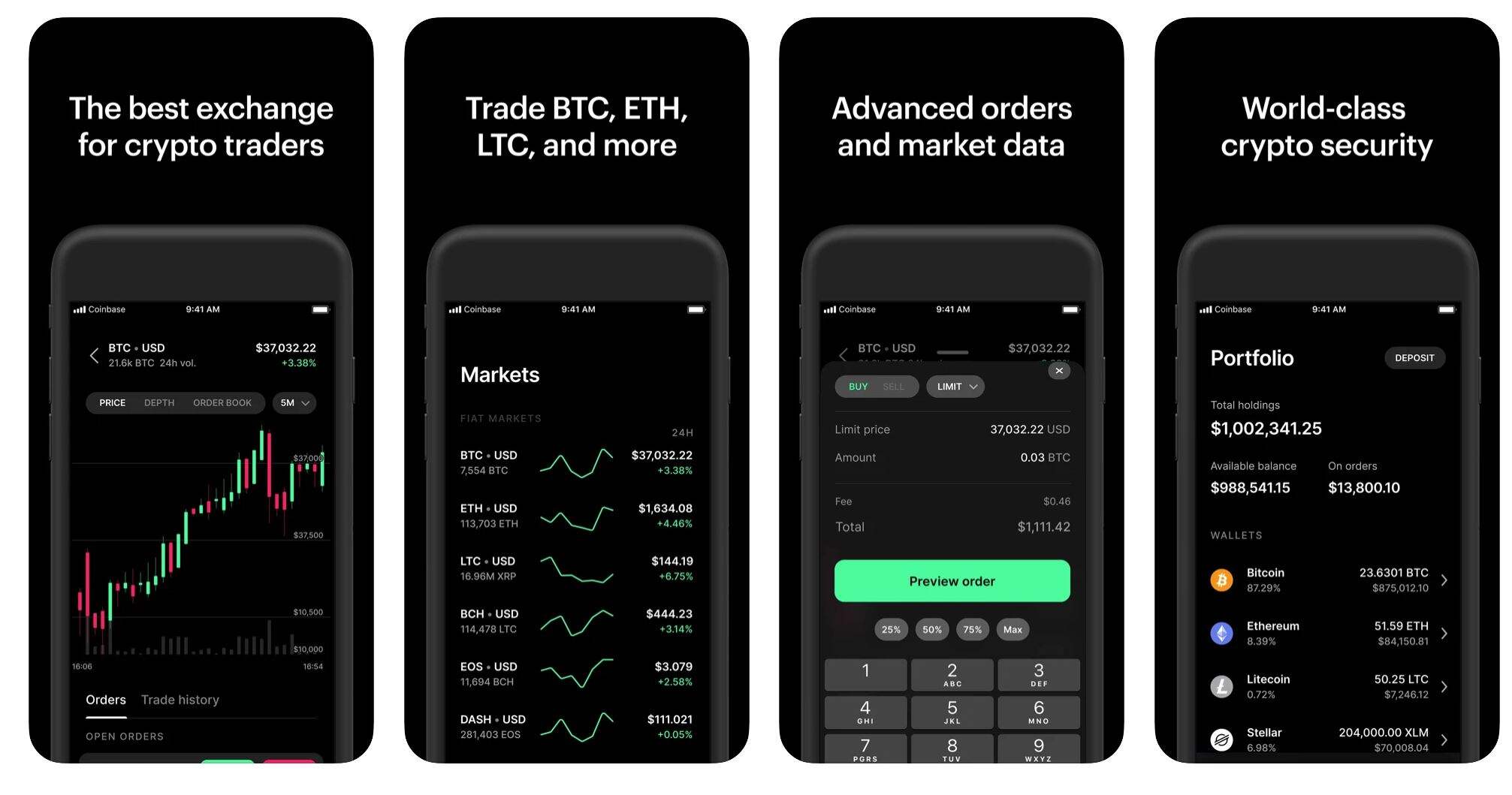 The Coinbase Pro trading platform was launched primarily for regular traders who began to complain about the high fees that the platform was charging them despite their high trading volumes.
Coinpbase Pro was initially called the GDAX and offers a variety of features and tools that experienced traders can use to buy a variety of cryptocurrencies. At the same time. the fees associated with such trades are quite low compared to the standard Coinbase platform.
Through the Coinbase Pro trading platform, users can trade cryptocurrencies like BTC, ETH, LTC, BCH, DOGE, and ADA with ease and by paying much lower fees.
Coinbase Staking
The Coinbase Staking feature is one of the most attractive features of the Coinbase ecosystem, and it enabled traders to earn rewards on their idle assets with ease.
A key thing to note about the staking facilities offered by Coinbase is that they are only available on selected Proof-of-Stake cryptocurrencies through Coinbase Earn.
Once users buy a cryptocurrency and withdraw it to their wallet, they have the option of staking it with any project or exchange, however, one of the reasons most people prefer Coinbase for this is because of the ease by which it allows you to do so.
If you wish to stake your digital assets through Coinbase, then you do not need to have any technical knowledge or specialized hardware, all you need is a device with access to the Internet and a Coinbase account.
All you have to do is to select the asset you wish to stake and choose the Staking option, and you will then be able to earn rewards at a fixed rate on your assets for as long as you choose to stake them.
Coinbase Wallet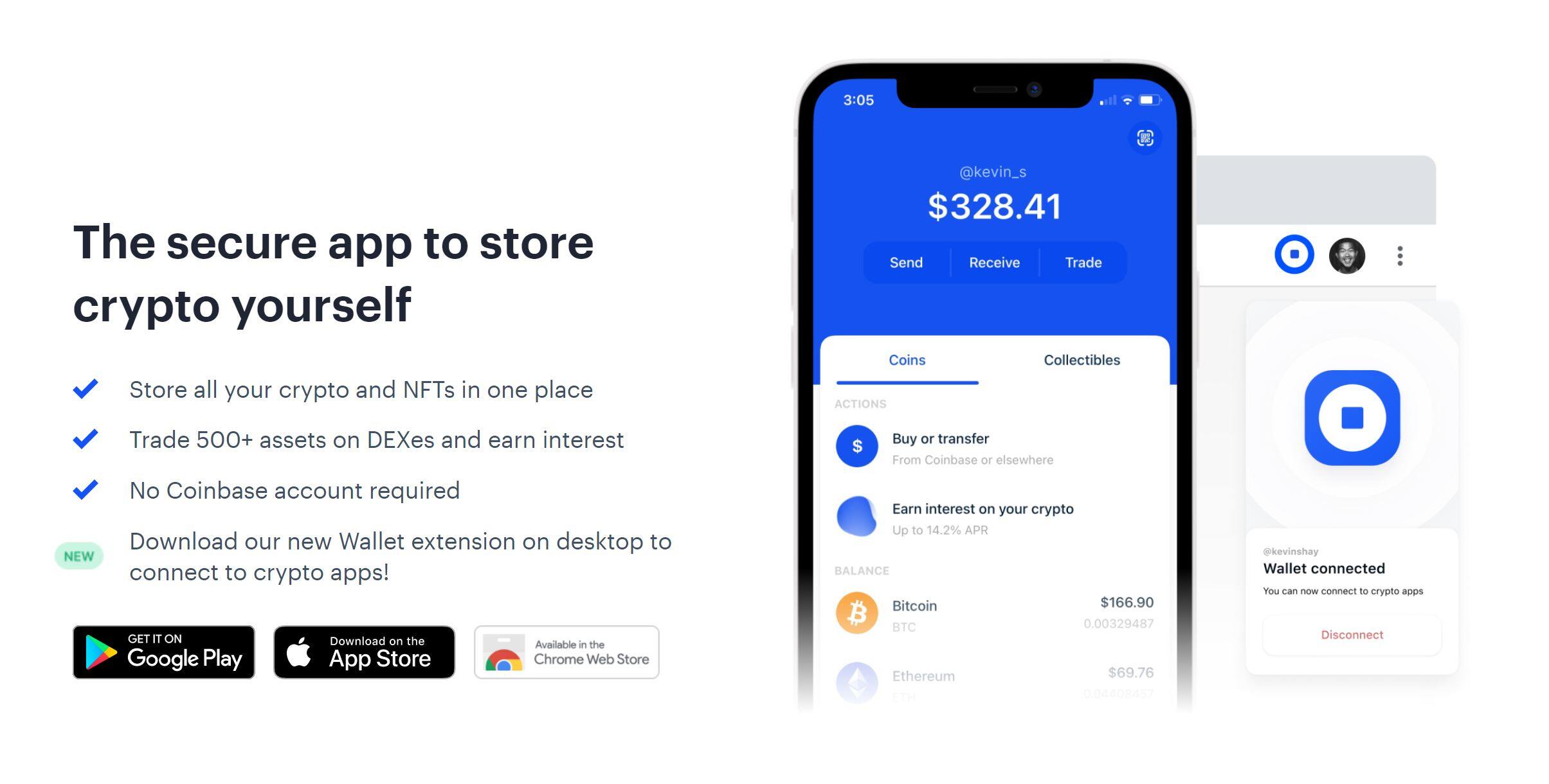 Prior to the launch of the Coinbase wallet, the only way for users to have control over the funds they had deposited onto Coinbase was for them to withdraw them to another external wallet, a process that was both cumbersome and expensive.
However, in 2018, Coinbase launched its own independent mobile wallet for both Android and iOS devices, with the kye security feature of only storing the private keys on the device where the app has been installed. This helps to ensure that no one else can get access to the funds that have been stored in the wallet.
Coinbase Commerce
Coinbase Commerce is a part of the B2B offerings that Coinbase has been developing over the past few years, and it supplied online merchants with the ability to accept cryptocurrency payments on their website.
It is believed to be a key step in improving the global adoption of cryptocurrency payments across merchants, and it is done through a plugin that will allow merchants to accept payments in digital assets.
The Coinbase Commerce plugin has received support from among the largest CMS around the world, including Shopify, Magento, and WooCommerce.
Coinbase Debit Card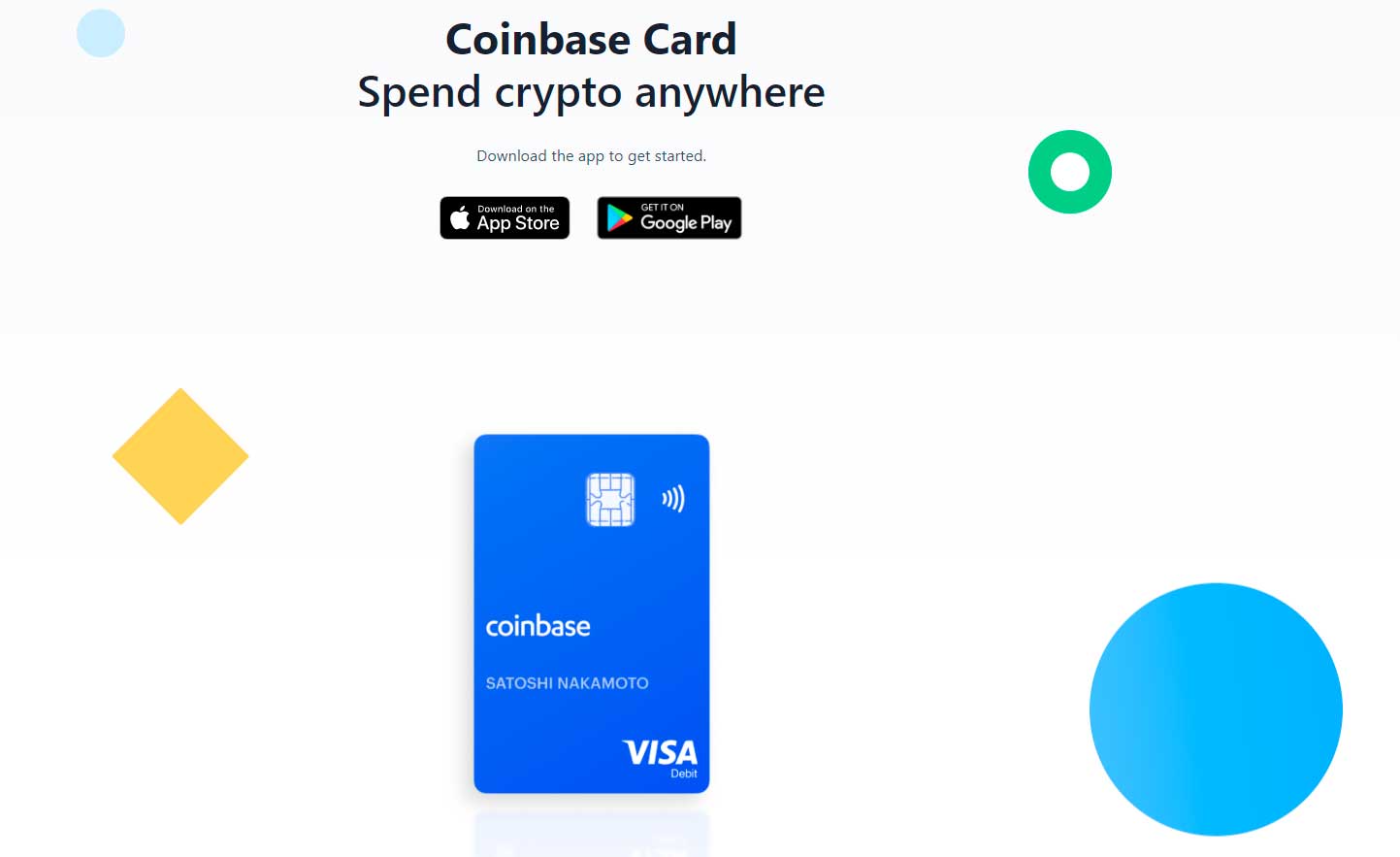 As we discussed earlier, Coinbase also decided to launch a debit card in collaboration with Visa in 2019. One of the primary features of this card was that it allowed users to make payments through their cryptocurrency balance. Users could choose what coins they wish to use with the card, and this would then enable them to make payments using these coins.
For example, if a user has two positions open at the moment, and only one of them is in the green, the user has the option of choosing to only spend their profits and not spending any of their capital.
Whenever you use the Coinbase Debit Card, what happens in the background is that the cryptocurrencies are converted into fiat currency and are then transferred to the vendor. This process has been made highly scalable and efficient due to the partnership with Visa, which allows for the card to be used with millions of vendors across the world.
The Coinbase Debit Card is also a convenient way to bypass the withdrawals process, by not waiting for your cryptocurrency holdings to be converted into cash, but simply spending them as cryptocurrencies and allowing Coinbase itself to convert the cryptocurrencies into fiat.
Additional Projects
In addition to the ones mentioned above, Coinbase has also created a separate diverse range of services which include:
A stablecoin (USDC) that can be used for transactions both on Coinbase and beyond.
Custodian services through which Coinbase safeguards the cryptocurrency holdings of institutional investors.
Coinbase Ventures, which is the Venture Capital arm of Coinbase that invests in upcoming cryptocurrency projects.
Coinbase Borrow is a lending service that allows users to borrow fiat currencies by pledging their BTC holdings as collateral.
Coinbase Safety Features
Because of the large number of users that trade through Coinbase as well as the extremely high daily transaction volume that the platform has, safety becomes a very important feature and a primary concern for investors and traders.
The safety practices used by Coinbase are among the best in the industry, such as the fact that 98% of all the assets held by customers through Coinbase are stored offline through digital and paper backups in a network of safety deposit boxes around the world.
Storing assets offline makes them immune to hacks and cyberattacks, therefore increasing the level of safety associated with these assets.
In addition to this, Coinbase also uses bank-standard encryption and security for the website and the platform, ensuring that your funds are as safe as they would be if you were to invest them in a bank account.
All the accounts associated with Coinbase are enabled with two-factor authentication, which means that in order to access an account or to withdraw money from it, users need to have access to the Google or SMS authenticator apps.
Signing up on Coinbase
As we discussed earlier, the process of signing up for an account on Coinbase is relatively quick and straightforward and involves a series of simple steps. These have been discussed below in detail.
Step 1: Sign Up For An Account
The first step is to simply head over to the Coinbase website and register as a new user. This process will involve filling in details such as your name, email address, and phone number, along with the country in which you reside.
Additionally, you will also have to set up your login credentials at this stage.
Step 2: Verify Your Identity
The next step is to complete their Identity Verification or KYC process, which involves submitting two documents:
A Proof of Identity in the form of any government-approved ID.
A Proof of Address in the form of a bank statement, mortgage document, or utility bill.
The KYC process is relatively quick, with verifications happening almost instantaneously in some cases.
Step 3: Add Funds
The next step is to deposit funds into your account. You can then deposit funds to your Coinbase Account through your bank account, credit/debit card, or any existing crypto wallet. Funds can be added in the form of both fiat currency and cryptocurrencies.
Step 4: Trade
The last step for you is to simply begin trading. To do this, once you have deposited the funds into your account, simply head over to the Marketplace, search for the crypto pair you wish to trade, enter the amount, and click on buy or sell. The order will be executed almost instantaneously.
Coinbase – Final Verdict
Coinbase is one of the most popular platforms that you can use in order to trade cryptocurrencies, and it is particularly popular among newer investors. It allows investors and traders to easily go about the process of trading without having to worry about the complexities associated with storing currencies and trading through decentralized exchanges.
One of the biggest downsides of Coinbase is its price structure being high as well as complicated, which might dissuade regular traders from trading through it. Additionally, the customer service associated with Coinbase is not the next, which is a further issue. However, if you are just starting out in the world of cryptocurrencies and are looking for a simple, easy platform, Coinbase is the right choice for you.
Coinbase Official Website
More than 150 Cryptocurrencies
More than 450 Crypto-to-crypto trading pairs
Use your own digital wallet
Low minimum to fund account.
Two highly rated apps for iOS and Android
Phone, email and chat support
Visit Coinbase
You have the possibility to lose money when trading CFDs with this provider. Only invest what you can afford to lose.