Overview
When it comes to trading cryptocurrencies like Bitcoin and altcoins, there are a lot of options available for traders in the US. However, when it comes to the same for European traders who might want to trade crypto assets using Euros, the options are quite limited.
Kraken provides a useful alternative to such users, enabling them to buy crypto assets in Euros instead of having to go through the currency conversion process, which might be time-consuming and expensive. In this review, we analyze Kraken as a broker and understand what types of traders it is most suitable for.
What is Kraken?
Kraken is one of the longest-running cryptocurrency trading exchanges in the world, and it has been operational since 2011. During these years, it has made a name for itself as being one of the very few cryptocurrency exchanges that allow users to trade over 120 cryptocurrencies using a variety of fiat currencies.
As a reputable cryptocurrency exchange, Kraken allows users to buy and sell crypto using a variety of fiat currencies, making it a more global crypto exchange that caters to traders and investors from all over the world.
Additionally, it offers a wide variety of features such as staking, margin trading, as well as futures trading on the platform.
Kraken has made a name for itself also through its low fees, which will be discussed in this review, the ease of use associated with the platform, as well as the high level of security measures associated with the platform.
Kraken Review – Pros
The Kraken trading platform has several pros associated with it, which include:
Strong Security Measures
As we mentioned earlier in the introduction of this review, one of the reasons why Kraken is popular is because of its excellent security measures.
While we will be discussing these later in this review, it is important to note here that Kraken's security systems have never been breached, and the crypto exchange has never been the victim of a successful hack or cyber-attack.
This makes it a much more attractive alternative than most other crypto exchanges which frequently fall victim to breaches.
Low Fees
When it comes to the trading of cryptocurrencies, there are several exchanges out there, and new exchanges are being established every day.
This means that in order to stand out from the competition and establish themselves as one of the best and more attractive exchanges to investors and traders, crypto exchanges usually offer incredibly low fees for trading.
Kraken is one such platform. While their fee structure will be discussed in detail below in the review, their fees start at merely 0.16% for maker transactions and 0.26% for taker transactions, which is much lower than most other firms at the same level.
High Liquidity
We mentioned earlier that the Kraken crypto exchange is one of the oldest crypto exchanges in the world, having been around since 2011.
One of the advantages associated with this is that the platform enjoys a very high level of liquidity, which is mainly owing to the fact that a lot of traders initially started trading through the Kraken platform when they got into crypto trading.
This means that the Kraken platform has a very high level of liquidity and trading volume, making it easier for traders and investors to get their orders fulfilled at competitive rates whenever they wish to do so.
Trading Fiat-to-Crypto
As we discussed earlier, another advantage of Kraken is that it allows users to trade cryptocurrencies for a variety of fiat currencies. This comes with a wide range of advantages.
For starters, international users who do not have USD as their base currency can also easily use the platform in their own currency, which reduces the forex charges that they would otherwise have had to pay through the platform.
Additionally, this also means that users can use the platform when they wish to withdraw their cryptocurrencies in the form of fiat currency to their bank account, as Kraken supports withdrawals in several different currencies.
Lastly, the Kraken range of fiat currencies also makes it possible for users to trade forex pairs and currency pairs, increasing the range of products that users can trade through Kraken.
Mobile Apps
The Kraken app, available for both Android and iOS devices, is also incredibly useful to traders as it allows them to monitor their investments on the move.
The cryptocurrency markets are quite volatile, and having the option of trading even when you are not using your laptop is very useful as a feature, especially for more advanced traders.
Live Chat Support
One of the more common concerns among users that regularly trade through cryptocurrency exchanges is the fact that most of these exchanges do not have good customer service teams, which makes it very difficult to get queries resolved or issues sorted out.
This is where the Kraken exchange stands out, as it provides users with a 24/7 Live Chat support team, which can resolve most basic queries and create a more convenient trading experience for traders.
Kraken Review – Cons
Every coin has two sides, and the Kraken trading platform is no exception. There are several cons associated with the platform, which include:
No Credit or Debit Card Deposits
One of the biggest disadvantages associated with the Kraken platform is the fact that users cannot deposit funds into their trading accounts using credit or debit cards.
This makes it quite inconvenient to add money to your trading account through Kraken, as users have to rely on slower methods such as bank transfers.
No Phone Support
We mentioned earlier that one of the advantages of using Kraken is that they offer 24/7 live chat support. However, the downside to this is that the chat support can only resolve basic issues, and for more advanced issues, traders have to rely on the phone support offered by the platform.
The phone support is only available for a limited time during the day, and this is very inconvenient when considering the fact that the Kraken exchange has users all over the world, who might be trading at different times.
Therefore, the Kraken phone support might not always be available, which leads to issues and delays in the resolution of most serious problems faced by the traders.
Long Verification Times
One of the more common complaints raised by users of the platform is the fact that verifications on the platform can take a long time. This can be quite frustrating for traders, especially considering the fact that most other crypto exchanges offer instantaneous verifications.
Additionally, the fact that Kraken requires users to undergo a verification process and complete the KYC process means that it might not be very suitable for traders that are looking to trade anonymously and privately.
No Wallet Service
Another disadvantage of using the platform is that it does not have its own crypto wallet service, which can be inconvenient for users.
If you wish to use a crypto wallet while trading through the platform, you will have to do so by connecting an external wallet to the exchange.
As most major exchanges like Coinbase and Binance have their own in-house wallets, the fact that Kraken does not is a reduction to its competitive advantage and makes other exchanges look much more attractive by comparison.
Limited Offerings in Some Countries
We mentioned earlier in this review that Kraken is a global crypto trading platform that offers its services to users in several different countries. However, not all countries get the same service.
In several countries, the Kraken service offerings are still limited. For example, in the United States, Kraken's futures trading platform is not available on the mobile app.
Similar issues are also present in other parts of the world as users might not get to experience the complete suite of Kraken's services.
Limited Starter Account
Another disadvantage of using the Kraken platform is that the stater account that they offer is quite limited in its functionality. This means that if you only choose to sign up for the starter account, you will not be able to access a variety of key features.
For instance, starter accounts cannot trade on margin or access some of the futures markets that the platform offers.
Additionally, if you have a Starter account and you try to access the Instant Buy platform, allowing you to buy cryptocurrencies directly for fiat currencies through your funds, then the fees associated with this will be quite high.
We discuss the fees associated with the Kraken exchange much later, but the fact that the Instant Buy platform has higher fees compared to the other services that Kraken offers makes the platform unattractive to some traders.
Kraken Cryptocurrencies Available
As we have discussed in the past, Kraken is among the largest and oldest crypto exchanges in the world, and it owes a major part of its popularity to the fact that it allows users to trade a very large variety of cryptocurrencies.
For instance, currently, users can trade over 120 different cryptocurrencies on Kraken, and this list does not even include the different fiat currencies and stablecoins that are available for trading on the platform.
Kraken also regularly keeps adding newer cryptocurrencies to its platform, therefore, as and when coins grow more popular, they are listed on the Kraken Exchange and are then available to trade.
Some of the major cryptocurrencies that can currently be traded through Kraken include:
Bitcoin (BTC)
Bitcoin Cash
Ethereum (ETH)
Cardano (ADA)
Dogecoin (DOGE)
Litecoin (LTC)
Polkadot (DOT)
Polygon (MATIC)
Ripple (XRP)
Stellar Lumens (XLM)
Solana (SOL)
Sushi (SUSHI)
Uniswap (UNI)
Additionally, the platform also allows users to trade their cryptocurrencies into stablecoins including Tether (USDT), the USD Coin (USDC), and Dai (DAI).
Users also have the option of converting their cryptocurrencies into fiat currency, through trading pairs like Canadian dollars, Japanese Yen, Euros, and a variety of other similar currencies available.
Kraken Review – Fees
For any trading platform, there are two main types of fees that it normally charges users – trading fees and non-trading fees. A brief explanation of each of these types of fees, along with the Kraken fee structure, has been provided below.
Trading Fees
Trading fees refer to any fees that are paid as a result of using the platform's primary services, which in this case is the buying and selling of cryptocurrencies and digital assets. Most cryptocurrency exchanges charge transaction fees in one of two ways: they either charge spreads or commissions.
Spreads refer to the difference between the bid price and the ask price. This model is primarily adopted by market-maker trading platforms that assume the position of the counterparty in the trade. Therefore, you are effectively trading against the platform.
When this happens, there is usually a difference between the price at which you can buy the asset and the price at which the asset can be sold at any given moment. The buying price, also called the bid price, is almost always higher, and the difference between these two prices is called a spread.
What this effectively means is that if you were to buy and sell an asset at the same time, you would actually incur a loss.
The other form of trading fee that might be charged by an exchange is a flat commission on every trade that you make. This is usually a very small percentage of the trading volume and is done in a decreasing manner, i.e. the higher your trading volume, the lower the fees that you will have to pay in this regard.
Kraken Standard Fee Structure
The Kraken fee structure is a combination of the commission and spread-based model, and users can expect to pay a certain percentage of their trade value as commissions.
For instant purchases, the fee that Kraken charges is around 1.5% for most cryptocurrencies and 0.9% if you choose to buy stablecoins through the platform.
Kraken Pro Fee Strcuture
if you are a regular trader, the fees that you are charged will depend on your trading volume over the past 30 days. Additionally, this will also depend on whether you are a market maker or a taker.
A maker trade is one that adds liquidity to the market, whereas a taker trade is one that removes liquidity from the market.
A table showing how the fees associated with the platform differ for different trading volume levels has been shown below.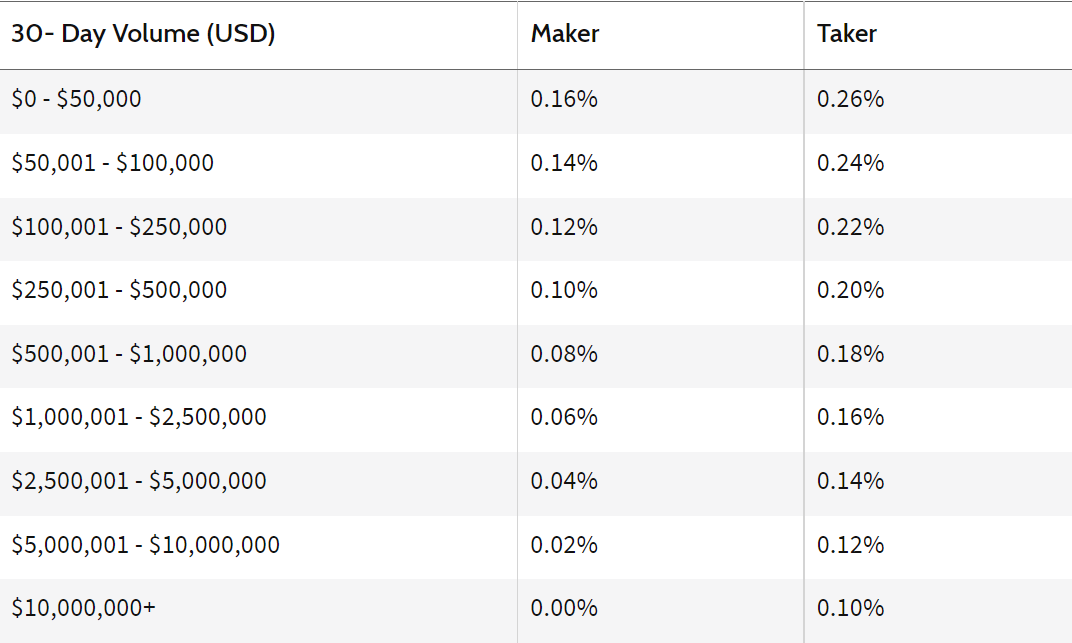 Non-Trading Fee
In addition to the trading fee, cryptocurrency platforms often also charge a variety of other incidental fees and charges that are not directly linked to the trading activity on the platform. These have been discussed in detail below.
Deposit Fees
Most cryptocurrency exchanges charge fees in order to allow users to deposit money into their accounts. On Kraken, the deposit fees are dependent on the method you choose to use to deposit money onto the platform.
For example, if you choose to deposit funds through your bank account, then you will not be charged any fees at all.
If you already have cryptocurrency funds on another platform and wish to simply transfer these onto Kraken accounts, then you might have to pay a fee depending on what cryptocurrency you wish to deposit.
For example, LINK has a 0.6 LINK address setup fee and 0.6 LINK deposit fee, while GNO is free to deposit but has a 0.07 GNO wallet fee.
Withdrawal Fees
Similar to deposit fees, most cryptocurrency exchanges also charge fees if you wish to withdraw money out of the platform. When you wish to withdraw money from your Kraken account, there are withdrawal charges associated with it, depending on the method of withdrawal you choose.
For example, a SWIFT USD transaction would cost $5 per transaction, whereas if you choose to withdraw funds in Euros through the EUR SEPA, the charges are only EUR 0.09.
Therefore, your charges can differ largely based on the currency you use to withdraw funds as well as the method you choose.
Kraken Review – Platform Features
Kraken Pro
One of the most popular offerings related to the Kraken exchange, the Kraken Pro is mainly suitable for more advanced traders who wish to utilize the full range of options and tools that are available for analyzing digital assets through the platform.
Kraken Pro can be used by any trader on the app and offers lower fees that are linked to the trading volume of the user. Additionally, it has a lot of tools that can be used to make better, more informed trading decisions.
Kraken Dark Pool
One of the advantages that Kraken offers is that of a dark pool, that users can utilize in order to trade anonymously.
Therefore, this becomes an attractive option for more sensitive trades, since the dark pool has an invisible order book that will allow users to trade without having to reveal their interests to other traders.
However, it is worth noting that Kraken fees are higher for dark pool trades.
Kraken OTC Service
Kraken also offers an OTC service that traders can use in order to place larger orders. The platform also offers a host of support features in this regard, allowing users to delicately place large orders and get the best possible rates for the same.
The OTC platform supported by Kraken is most suitable for traders that wish to place orders of over $100,000, which might be disruptive to the market. Therefore, they can choose to place such orders through the OTC platform and obtain discreet settlement.
As an OTC client on the platform, you will receive 1-on-1 advice from an advisor on the Kraken platform on how to best structure your trades so that they provide the most advantage to you.
Every fiat currency and cryptocurrency found on Kraken is supported by the OTC desk, with 24/7 global coverage, excluding major holidays.
Kraken Review – Safety
As we mentioned before, Kraken takes the security of its platform very seriously, to the point where the platform has only gone down once since it was created in 2011 – and this was in 2028 to perform necessary system upgrades.
Some of the security measures that Kraken employs to ensure a high level of compliance and security include:
It automatically transfers all the new deposits made onto the platform onto cold wallets stored offline, which makes sure that the platform or any of the wallets cannot be hacked by any online users.
It also stores the vast majority of the coins on the platform in cold wallets, which ensures that they are immune to cyber-attacks and hacks. Only assets that are vital to ensuring a high level of liquidity on the Kraken platform are kept in online wallets.
All the data stored on the platform is kept in an encrypted format and cannot be accessed by anyone outside the organization unless they have access to multiple security centers and devices all at once.
The platform also employs multi-factor authentication and two-factor authentication in order to improve the security of user accounts and prevent anyone else from getting access to the funds in the account.
Kraken Review – Final Verdict
Overall, the pricing and the features associated with the Kraken crypto exchange make it a very good platform through which beginners can start trading. It has a variety of supported cryptocurrencies, a simple fiat-to-crypto mechanism, margin and futures trading platforms, as well as a very strong level of security and legal compliance.
However, the platform has some customer service issues, and users have also reported that not using Kraken Pro might result in high fees. Users wishing to use the platform must be aware of all the risks associated with it.
Kraken Official Website
Funds can be withdrawn 24 hours
Strong Security Measures
Low Fees
Trading Fiat-to-Crypto
Large OTC services
Regulated by CySEC (Liquidity)
Visit Kraken
You have the possibility to lose money when trading CFDs with this provider. Only invest what you can afford to lose.